The software selection process is fraught with risks and blunders. Effective risk management can help you find best-fit software to meet the project requirements. This article outlines the risks to avoid when selecting software and provides practical tips on managing them.
Avoid risk in your software selection process. Try Olive for 14 days.
Selecting Best-fit Enterprise Software
Identifying the software that meets your organization's needs is a nightmare. With so many software vendors on the market (over 300), it's difficult to know where to start. Manually looking at how vendors meet your needs is arduous and fraught with bias. How do you find the best-fit software?
First, you need to pay attention to common software selection risks and equip yourself with the knowledge of how to avoid and mitigate these risks. Let's take a look at these in the following section:
11 Software Selection Risks to Avoid
1. Poorly Managed requirements
These requirements have the potential to come with a whole host of problems, such as:
Unknown Requirements: Unknown requirements are those the software buyer doesn't know they need. They can cause problems during software implementation, resulting in frustrating delays and cost overruns.
Inadequate Requirements: Requirements are the foundation for selecting the best software, and if the foundation is inadequate, you can be sure that the rest of the process will run amuck.
Poorly written requirements: Poorly written requirements can cause confusion and ambiguity for stakeholders and clients, resulting in project misalignment and unclear expectations.
Not identifying the right stakeholders: Before starting the software selection process, you must clearly define who exactly your stakeholders are, and collaborate with them on their needs. Selecting software without these stakeholders can cost you excessive time, energy, and money.
2. Lack of stakeholder buy-in
Stakeholder buy-in is the glue that binds all elements of a project together and accelerates the entire process, making it more collaborative. A lack of stakeholder buy-in can easily turn a project on its head, resulting in turmoil for all involved.
3. Unrealistic expectations on software scope
Software scope needs to be clearly defined from the get-go to avoid unrealistic expectations. When selecting software, check against what the potential software can deliver. Develop a clearly defined set of requirements, then evaluate the software products against those requirements.
4. Fear of selecting the wrong software
A valid concern, selecting the wrong software is often done when there is not a comprehensive evaluation strategy in place. The solution to selecting the wrong software is to undertake a selection analysis upfront to ensure that the software is aligned with your specific needs and requirements.
5. Unrealistic time to implementation
When you do not allow enough time to perform a thorough software selection process, serious problems and potential software failures can ensue. The only solution to this problem is to plan and take the time to do a comprehensive software evaluation and selection.
6. Bias
Cognitive bias often affects the software evaluation project success. Learn more about how the right software can free the evaluation process of bias.
7. Shortcutting the software selection process
There are many ways to shortcut the software evaluation process, from choosing an option that worked great for a competitor's company to getting wooed by a salesperson. All shortcuts have a similarly unhappy ending. Learn more about how to avoid shortcutting the software selection process here. 
8. Lack of vendor due diligence
When you skip over due diligence, you may select the wrong vendor, which can have catastrophic consequences. To avoid this, check the vendor's references, speak to customers, look at their reputation on Glassdoor, and thoroughly check their website. Or, to avoid this, you can skip tons of manual due diligence work by using technology such as Olive, which matches best-fit vendors to your established requirements, helping you determine a shortlist. This knocks weeks off technology evaluations by only looking at vendors that meet the needs of the business. You can select whomever you'd like and invite those specific vendors to demo.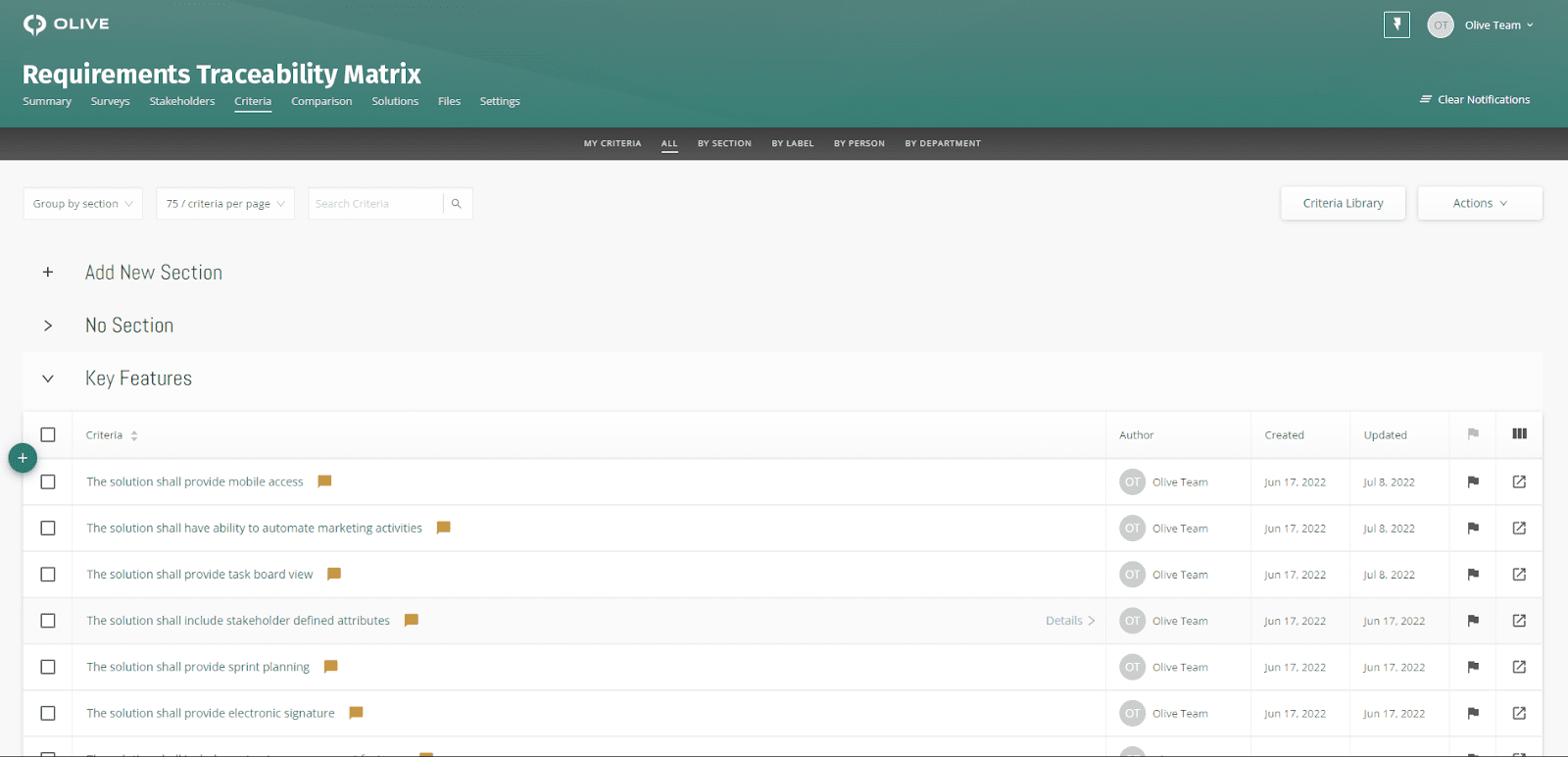 ‍
9. Underestimating implementation times and costs
Stakeholders and clients can become disillusioned when implementation times and costs are underestimated. Aim to provide all parties with realistic timelines and costs to avoid disappointment, distrust, and frustration.
10. Overconfidence
When the project team just ''wings'' it when it comes to the software selection process, you can end up underestimating the selection difficulty and making the wrong software choice. Use a data-driven software selection process to avoid overconfidence in your software selection.
11. Personal Risk
Leading a project when the wrong software is chosen could cost you your reputation or, your job. Avoiding these risks can also ensure this doesn't happen. Using a software selection tool to mitigate risk and manage ROI and project success effectively.
Avoid software evaluation risk
Mitigating risk should be a top priority in your software selection strategy. Olive provides a host of features that eliminate the risks associated with the software selection process, and automates much of the tedium.
Olive's platform simplifies the software evaluation process, getting you to a solution faster than a traditional RFP. It is efficient and free of bias, revolutionizing the sourcing technology process and delivering the value you would get from an IT consultant.
By using Olive you can be confident that you are getting the most accurate evaluation for your client or organization's unique needs, and ultimately choose the right software!
Free yourself of the many risks associated with the software selection process today. Try Olive free for 14 days.‍