Requirements Management for Enterprise Software Selection
Teams can collaborate to research, gather, capture, and rank requirements and reach consensus 4x faster.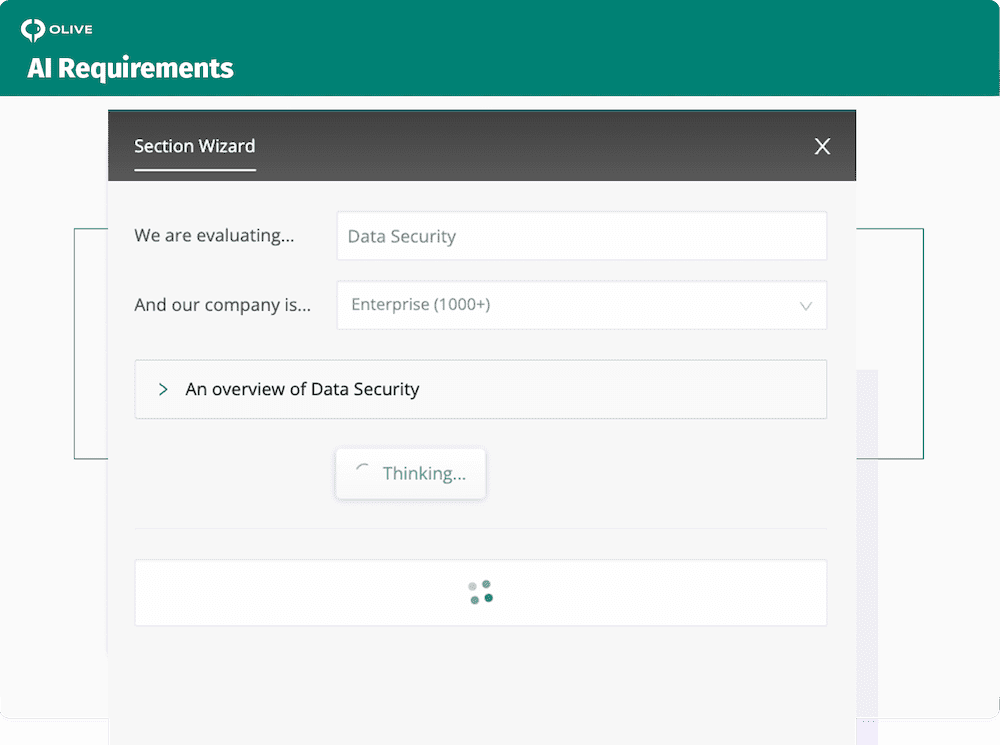 Use AI to Generate Relevant Requirements 
Olive's AI-powered technology will help you generate requirements that are relevant to your business needs, using keywords.
Identify pre-seeded requirements to get the ball rolling, saving time and keeping the project focused on the goals.
Requirements Gathering 
Olive surveys allow you to gather and discover additional requirements. If you don't know where to start, Olive provides standard requirement discovery surveys that you can modify to meet your specific needs, and AI to help you get the ball rolling.
Requirements Templates
Build out your Requirements templates based on your expertise, or use our requirement libraries to help you build a template.
Create reusable templates for teams whose requirements change minimally. Save these Requirements Templates for reuse in the future.
Use Olive surveys to gather additional requirements. Requirement Gathering surveys are also available in Project Templates.
Cloud-Based Requirements Management 
Easily manage requirements and criteria by assigning them to functional, non-functional, and evaluation criteria sections. (within a project). 
Create and Reuse Master Company Requirements
Enterprises can create Master Company Requirements (For example, Security, Procurement) that would be standard for any in-house solution evaluation.
For new digital transformation projects, you can pull these Master Company Requirements into that project. In addition, companies can evaluate existing solutions against these requirements to understand which solutions need to be replaced in the future.
Requirements Libraries
Use our requirement libraries to help you build out solution evaluation projects and reusable requirements templates.
Requirements Traceability Matrix
Olive's traceability matrix includes Elicitation, Validation, Specification, and Verification. Olive's traceability matrix includes Elicitation, Validation, Specification, and Verification.
4x
 Faster Requirements Consensus
Capture, prioritize, manage, and rank requirements no matter the complexity. Olive users report gathering, managing, and ranking requirements 4 times faster than usual. Eight weeks vs. two weeks.
Weighting Requirements
It's important to hear everyone in the project; however, certain feedback bears more weight than others. In Olive, you can assign different weights to different departments and sections, depending on what makes the most sense for the project.
Score Vendors Based on Response to Requirements
Review vendor responses at a requirement level
Olive allows stakeholders to review vendor responses for each requirement and then score those responses based on how well it will meet their needs. All stakeholder responses are calculated automatically and presented as an overall score at the requirement, section and solution level.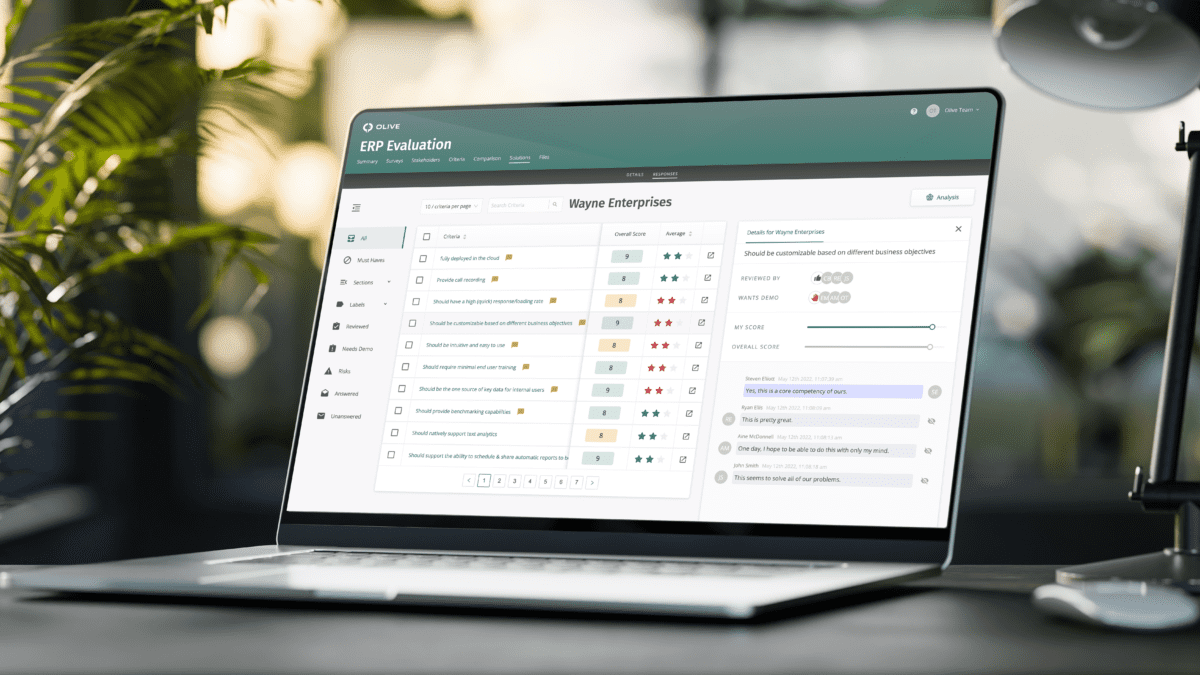 Get Started With Olive Today
Submit the form to get connected with a representative
Fresh Perspectives on Requirements for Enterprise Software Selection
Download the Ultimate Guide to Requirements Management
Requirements gathering for solution selection gets more complicated by the year. RFPs, RFIs, and other requirements elicitation documents are often over 100 pages with multiple changes throughout the process, costing companies time and resources while risking stakeholder burnout and disengagement.
Requirements management should be about aligning stakeholders on project goals and building consensus to find the right solutions for the fundamental business needs. The process should not take months or bog people down with meetings, spreadsheets, and RFPs.
In this guide, we walk you through how to manage the entire process with ease, from writing a good requirement, including the right stakeholders, and building consensus. This complete guide to requirements management will help you avoid risk and leverage technology to automate and streamline the process.