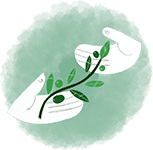 The Olive Branch Between Technology Buyers and Sellers
Technology buyers and sellers are at odds, but they don't need to be! Olive was founded to transform and streamline the technology evaluation process.
The Story of Olive
2017: The Idea!
A veteran in enterprise software sales, Olive's co-founder Chris Heard found himself in an Airport Bar, having spent months trying to influence a buyer into purchasing his solution. Nine months into the sales cycle, he realized his solution might not be the right fit for this customer.
"This is not how companies should buy and sell software."
Over the years, Chris noticed a rapid increase in the software selection process being controlled by the sales teams. Buyers had become tired of complex buying processes and wanted to simplify their buying process so they could innovate faster. They handed control of the buying process to salespeople. This resulted in vendors with the best sales teams winning their business, while the vendors with the ideal solution went unnoticed.
Looking at tools available for vendors Vs. Salespeople, it was obvious that the scales were heavily weighted in favor of the vendor. Olive would change that. Long-time colleague (and now co-founder of Olive) Dan Harrison agreed. They would develop a solution that would benefit buyers and sellers alike, enabling visibility into company-wide needs, automating tedious tasks, reducing time, effort, risk, and cost of evaluations, and retiring the traditional RFP process. #RIPRFP!
2018–2019: Research and Development
The solution? A technology evaluation platform for IT consultants and IT leaders that's efficient and free of bias, revolutionizing the technology evaluation process.
In 2018, Chris and Dan set to work on reimagining the current technology evaluation process to remove the inefficiencies and bias from the buying process. Olive would be a tool for IT consultants and buyers to find solutions that drive innovation. With early customers, they realized there were pain points in the software procurement process that we could solve immediately.
2020: Olive Wins Techstars, Secures $1m in Funding
Olive graduated from Techstars' Seattle cohort in May 2020 and received an initial investment from the accelerator. Speaking to Business in Vancouver, CEO of Olive, Chris Heard, said most of the proceeds from the investment will go toward the startup's engineering team.
In July 2020, during the height of the pandemic, Olive raised $1 million. San Antonio's Active Capital led the funding with participation from Techstars and UK-based Novator.
The Global Covid-19 crisis forced many companies to develop better ways of evaluating technology collaboratively and remotely. Olive helped service those needs.
2021–2022: Olive Grows, Secures More Funding, Opens Office in Chicago
These past few years have seen exponential growth for Olive, gaining enterprise clients in Food and Beverage, Hospitality, Insurance, HR technology, Healthcare, and Construction.
Our clients have successfully found solutions such as POS, ERP, LMS, Investment Management, HR Technologies, and more. We learned how our product not only helps IT buyers but also IT and technology consultants looking to automate their processes. Due to the growing number of Consulting clients using our product, we launched more features for consultants in that product and on the roadmap.
In April 2022, Olive raised another $3 million seed round led by Chicago Ventures and set up shop in the Windy City. We also expanded our remote team, with Olivers in Sook BC, Vancouver, Toronto, Chicago, New Orleans, and DC.
2023 Olive Releases AI
With Olive's revolutionary AI integration, Olive empowers Enterprises to accelerate the software selection process even more, ensuring efficiency and accuracy every step of the way.
Olive's collaborative features, combined with AI helps organizations harness the power of data, and collaboration to experience unparalleled IT  decision-making that drives digital transformation.
Meet

Olive

, Your AI Digital Transformation Coach
Work with Olive to Discover tailored solutions, uncover insights, and supercharge your Digital Transformation. With Olive by your side, success is within reach!