Celebrating Olive Technologies' Fall 2023 G2 Achievements
Olive Technologies receives accolades and badges in the G2 Fall 2023 Reports, including top rankings in Enterprise Relationship Index, Mid-Market Relationship Index, and Implementation Index categories.
Staying ahead of the curve and consistently delivering excellence is no small feat. At Olive Technologies, we are thrilled to announce our remarkable achievements in the G2 Fall 2023 Reports.

These accolades reflect our unwavering commitment to providing innovative, user-friendly software solutions for our valued clients. We thank each and every one of you for your insights feedback and look forward to our continued success and partnership! Together, we will change how the world makes technology decisions.
High Rankings and Exceptional Performance
In the G2 Fall 2023 Reports, We at Olive Technologies have again demonstrated our prowess, securing top positions in multiple categories. We're delighted to share our achievements with you, which highlight our dedication to helping organizations succeed in sourcing best-fit technology.

Enterprise Relationship Index
Olive Technologies earned high praise in the Enterprise Relationship Index category, showcasing our ability to foster strong relationships with our clients. Our commitment to understanding and meeting your unique requirements has earned us recognition as a trusted partner.
Mid-Market Relationship Index
In the Mid-Market Relationship Index, we've excelled in catering to the specific needs of mid-sized businesses. Our adaptable solutions have resonated with this dynamic segment, further cementing our position as a versatile tech provider.
Implementation Index

At Olive Technologies, we understand that successful implementation is key to unlocking the full potential of our software. Our high ranking in the Implementation Index underscores our commitment to supporting you every step of the way in your software adoption journey. Here is our full scope of achievements!
A Testament to Client-Centric Innovation
Our success in the G2 Fall 2023 Reports is a testament to our client-centric approach. We've always believed that our clients' feedback is invaluable, and we've actively used it to improve our software's usability and functionality. These achievements would not have been possible without your trust and collaboration.
What Lies Ahead
As we celebrate these incredible achievements, we're also looking ahead to the future. At Olive Technologies, we believe in continual growth and innovation. We are dedicated to pushing the boundaries of what's possible in the tech world and ensuring that our solutions continue to exceed your expectations.

Olive Technologies' achievements in the G2 Fall 2023 Reports are a testament to our commitment to excellence and innovation. We're excited about the opportunities that lie ahead and are eager to continue serving you with the same dedication and passion that have brought us this far. Thank you for being a part of our journey, and we look forward to achieving even greater milestones together in the future!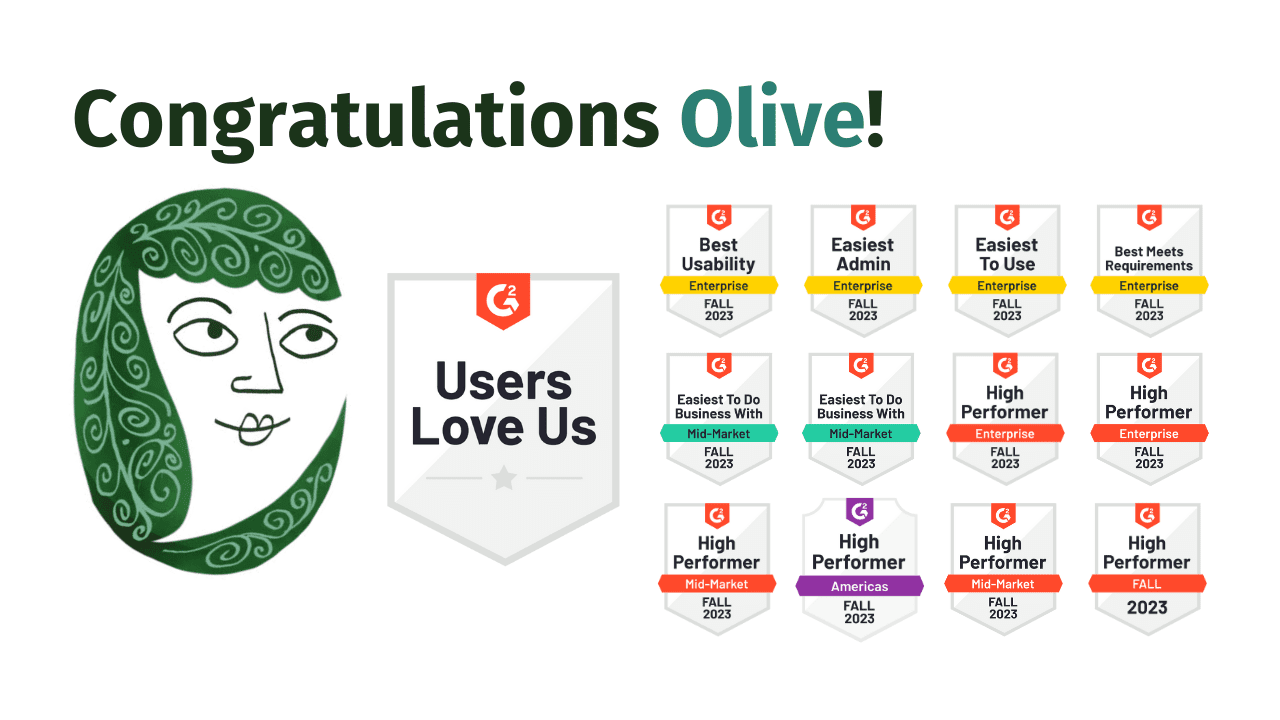 Olive Ranked #1 for RFP Collaboration and Stakeholder Communication on G2