Olive Technologies and Procurify Partner to Align SaaS Procurement from Source to Pay
---
Olive Technologies is thrilled to announce we have partnered with Procurify, a leading provider of cloud-based procure-to-pay (P2P) software, to transform the landscape of SaaS procurement. This collaboration is set to streamline and enhance the vendor sourcing, selection, and procurement processes for organizations on a global scale.
In today's fast-paced business world, one of the most significant challenges in procurement is bridging the gap between business decision-makers and procurement teams. Often, decisions regarding vendor selection, product procurement, and implementation are handed to procurement with limited context. This can result in inefficiencies and potential misalignment, causing delays in implementation, budget overruns, and missed cost-saving opportunities.
Heather Simmons, from Procurify, highlights this issue, saying, "The divide between business decision-makers and procurement teams can result in suboptimal vendor choices, delays in implementation, budget overruns, and missed cost-saving opportunities."
The good news is that this partnership between Olive and Procurify aims to redefine how businesses approach procurement. Olive empowers buyers to collaborate seamlessly on technology purchasing decisions. It offers complete transparency to all stakeholders involved in the decision-making process, ensuring that the company makes the best decisions to find the best-fit vendors.
Procurify's intelligent spend management software complements this approach by streamlining workflows from procure to pay. It provides organizations with real-time visibility and control over all business spend, helping speed up purchase cycle times and enabling data-driven spend decisions.
Chris Heard, CEO and co-founder of Olive Technologies, emphasizes the importance of this collaboration: "Olive and Procurify will help businesses make informed, data-driven decisions and smoothly execute procurement transactions."
What makes this partnership truly exceptional is that it combines two best-in-class solutions, providing organizations with a seamless source-to-pay workflow. This addresses key challenges associated with vendor selection, purchase, implementation, and renewal, all while maintaining clear and effective communication and understanding between business, IT, and procurement. Clear communication translates to higher success rates, lower total cost of ownership (TCO), improved coordination across the organization, and solid vendor partnerships.
To learn more about the Olive Technologies and Procurify partnership and how it's set to transform the world of SaaS procurement, read the full press release.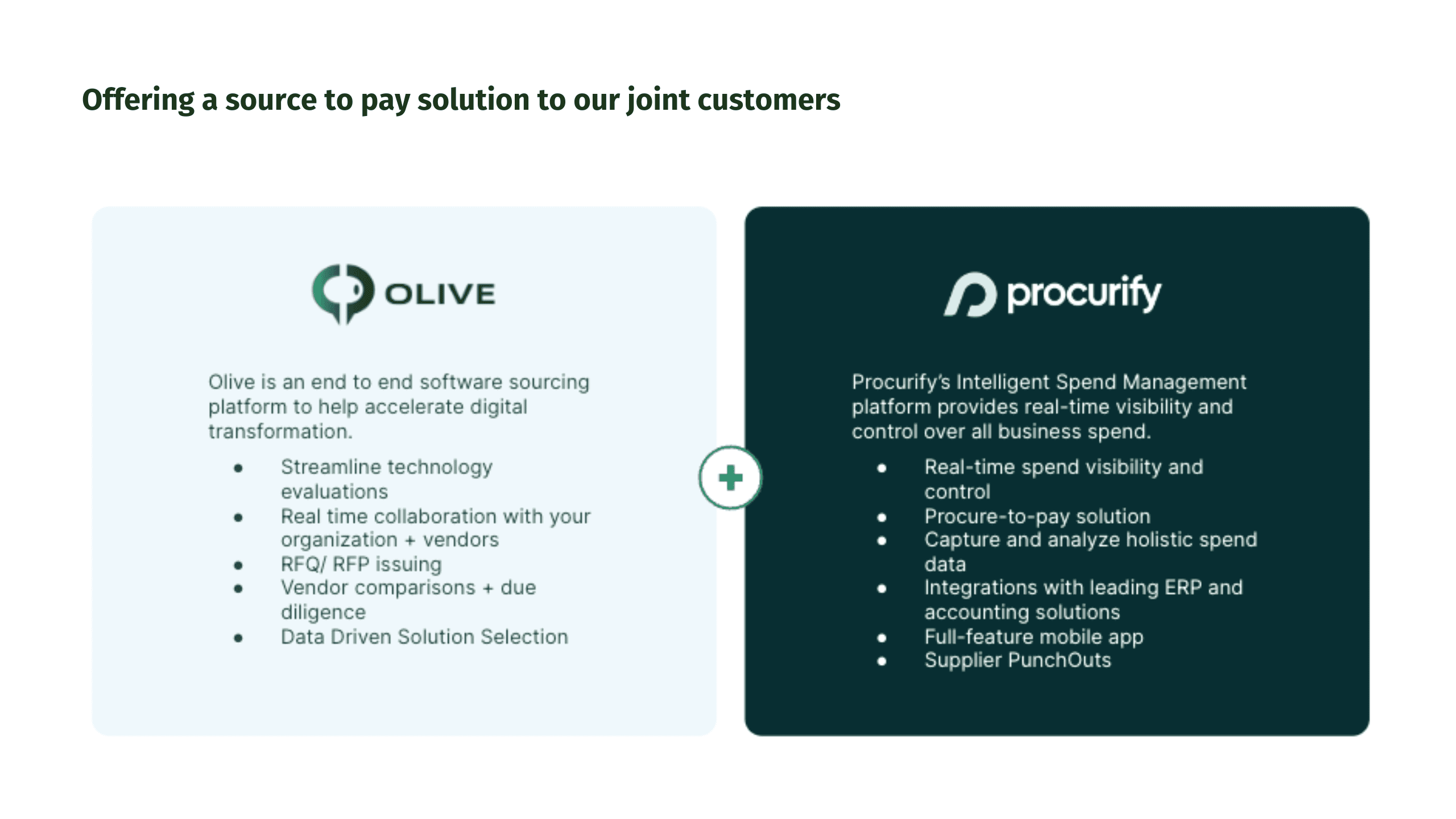 About Olive: Olive is an end-to-end technology evaluation platform for consultants and IT buyers. Olive lets you manage even the most complex technology evaluations for your clients or organization in one platform. It allows you to collaborate on requirements with key stakeholders, quickly evaluate solutions, and manage and store your work for reuse on other transformation initiatives.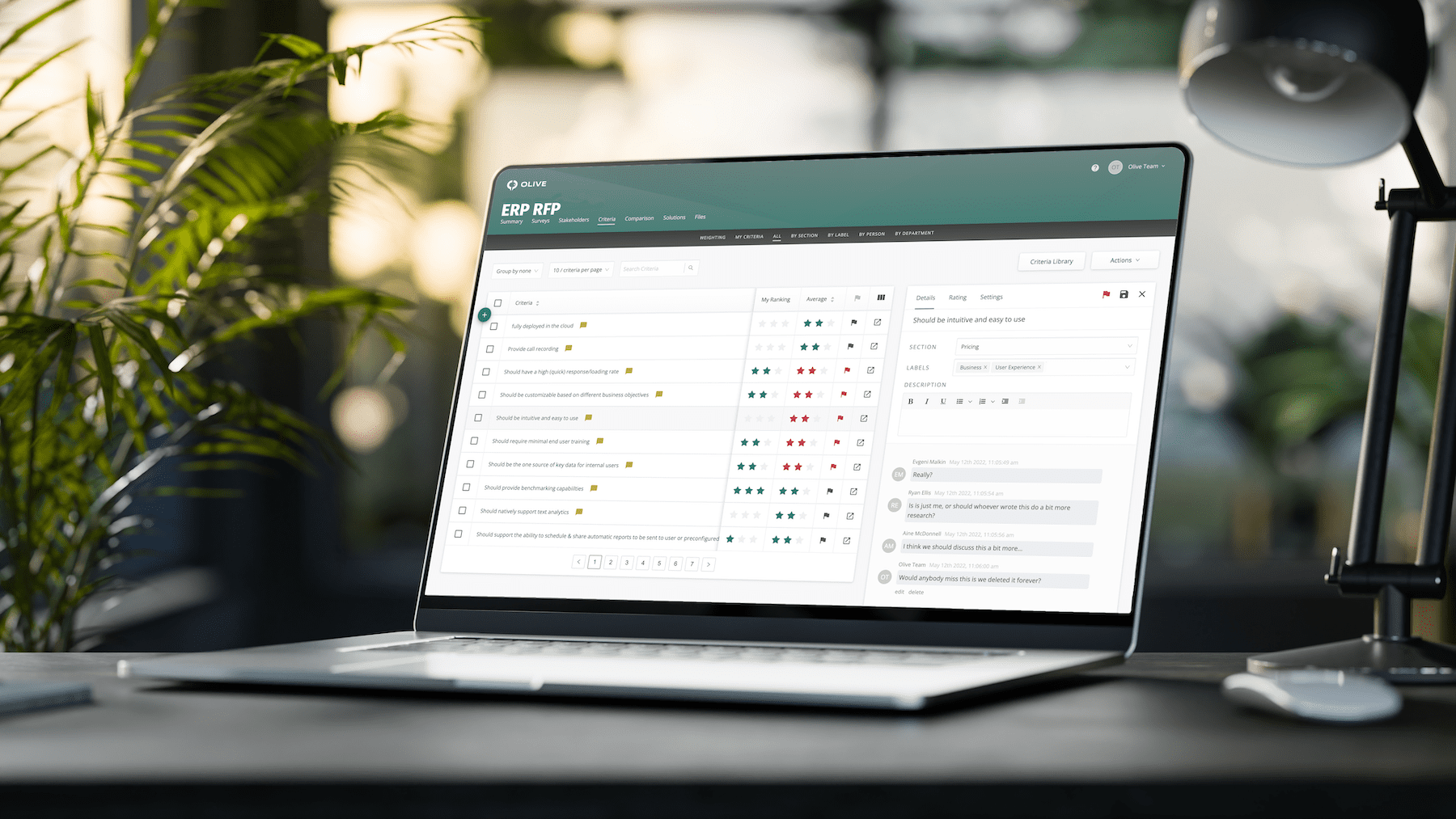 About Procurify: Procurify is the Intelligent Spend Management company on a mission to give all organizations unprecedented visibility and control over their business spend. By bringing more spend under management in one procure-to-pay solution, their customers capture unified spend data that can be harnessed to realize millions of dollars in time and cost savings.
Stay tuned for more updates on this game-changing partnership and its impact on the world of procurement. This is just the beginning of a new era in SaaS procurement!