What is strategic sourcing?
Strategic sourcing is part of the procurement process that is responsible for identifying and contacting suitable suppliers for the purchase of goods and services. Strategic sourcing focuses on the shared gains in a collaborative relationship. Strategic partners look for new innovative ways for your products and services. In turn, they want your commitment to the long-term strategic partnership. The right strategic sourcing solutions empower procurement and sourcing professionals to overcome business challenges and reach their goals of cost savings, spend control, and risk management. By automating and integrating sourcing activities, teams can reduce time required spent vetting new suppliers and focus your efforts on collecting and analyzing critical financial data.
7 Steps to Streamline the Strategic Sourcing Process
Step 1: Evaluate, collect data and build a strategy
Firstly, organize a thorough evaluation of your sourcing needs, which consist of the following processes:
Solidify and nurture your supplier relationships: focusing on supplier relations will set you up for future success – and prepare you for upcoming projects, new developments, and growth plans.
Conduct a spend analysis: spend time analyzing how much your organization spends, where it is spent, and identify areas that need to be further improved.
Project validation: Do you need to obtain a new supplier for the category you're intending to source for? Or if it is something you can renegotiate? Conducting a project validation is a solid approach to answering these questions and providing you with clarity on your needs.
Gather your data and requirements: this will include the following areas:
Existing contracts with suppliers — including terms and conditions
Statement of work
Supply market analysis
Spend data from your spend analysis
Project strategy: conduct a project strategy including the scope and scale of your intended project as well as the types of suppliers to select.
Step 2: Conduct A Supply Market Analysis
Performing a supply market analysis allows you to understand your buyer power and category in greater depth. Once completed, you can then determine what strategy approach better fits with the type of service you're sourcing. Kraljic's Matrix is seen as a highly effective approach to segment the vendor base. This two-by-two matrix is mapped against two key dimensions: risk and profitability. Risk demonstrates the likelihood of unexpected events occurring that may disrupt the operations. Profitability describes the possibility of impacting the bottom line of the organization. Upon identifying the segmentation of a product and service, you will have a stronger vision about the type of strategy and partner relationship to implement.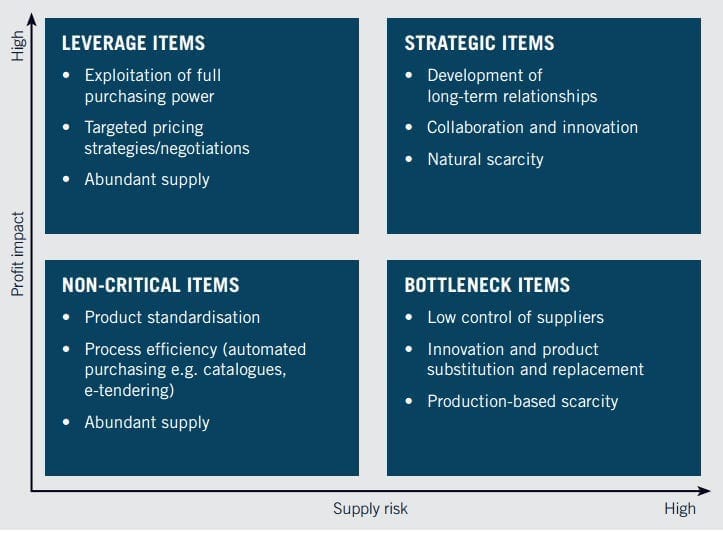 Source: Peter Kraljic, HBR via Forbes
Step 3: Develop a Strategic Sourcing Strategy and Involve Key Stakeholders
Minimizing risk and cost does not happen without the right sourcing strategy in place. To create this, establish your business' goal and the minimum requirements for suppliers, then list the selection criteria that are most suited to your requirements, capabilities and resources.
You will also need to identify and involve the key stakeholders whose buy-in will be required to solidify the strategy.
Step 4: Select The Strategic Sourcing Process
The most common method that many businesses use is a Request for Proposal (RFP) –  often used through a bidding process, written by an organization interested in acquiring a product or service from vendors for their project. However, as digital transformation tools continue to evolve, more and more organizations are bidding farewell to the archaic RFP process in favor of an easier, more streamlined, more time-efficient approach. You need to be able to pivot to your business needs, to allow for flexibility over time, so try an agile, strategic sourcing solution  that allows for innovation.
Step 5:  Select The Best Suppliers for Your Unique Business Needs
As mentioned in step 4, the traditional RFP approach often requires a long bidding process, in which your task is to shortlist potential suppliers, then interview for clarification, follow up via email, meetings, discovery calls, and so on. An innovative digital, data-driven approach, like Olive can help you save time finding the best suppliers for your business needs. For example,
based on data gathered in the app, Olive matches best fit vendors to your established requirements, helping you determine a shortlist. Premade projects with built out requirements help teams kick off the solution.
Allows agility communication and standard gated process, makes rfp more flexible, in terms of changes additions, based on learnings.
This knocks weeks off technology evaluations, by only looking at vendors that meet the needs of the business.
‍
Step 6: Implementation and Integration
Communicating with suppliers is an integral part of strategic sourcing. After narrowing down which suppliers you want to partner with, make sure to communicate with them from the get-go.
It's also important to remember that the more complex your product is, the higher the need for  tight cooperation and partnership is. Olive lets you collaborate and communicate with suppliers directly in the app, helping you reduce the number of meetings. Everything in the app is recorded and time-stamped so you can easily refer back to vendor responses.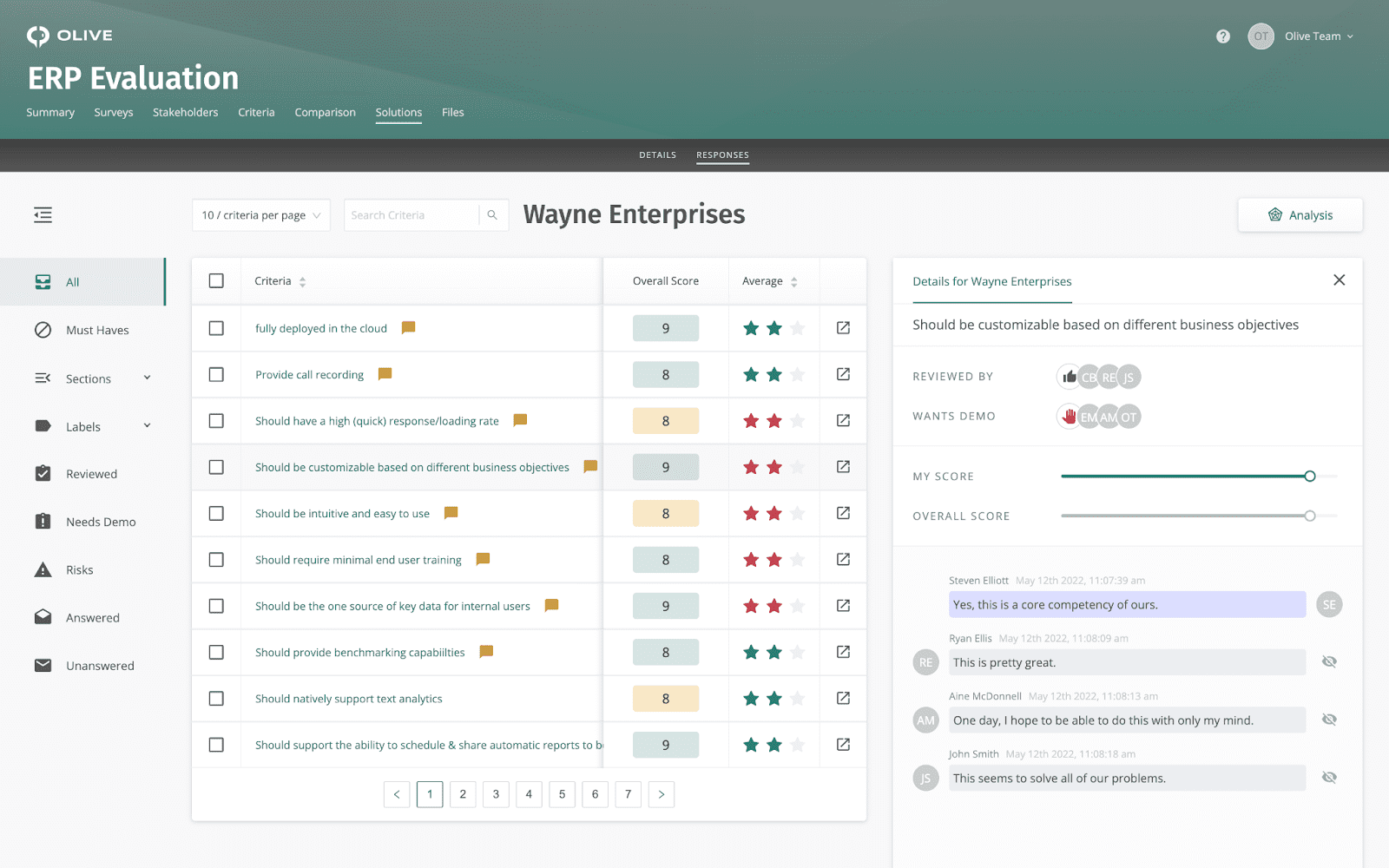 To ensure success, integrate suppliers into your meetings in the implementation stage, making sure they're up-to-date on all of your organization's changes, updates, and future plans.
Step 7: Benchmarking
This step is often overlooked – which can result in a lot of missed opportunities for the business. Benchmarking is essential to measure the supplier's performance over time – starting with benchmarking the current status of the product, continuously monitoring the results and ensuring the goal is being achieved.
Strategic Sourcing Solutions
For procurement teams that are seeking better vendor relationships and reduced costs, bringing automation to the strategic sourcing process provides clarity and competitive advantage. While RFPs and traditional communication channels once were required to solidify a strategy, there are options available out there to innovate, leverage the benefits of automation, such as enhanced efficiency, control and ultimately spend. Procurement teams can use Olive to gather and rank criteria and data, generating better data to negotiate contracts. Teams can improve collaboration and transparency. Olive matches best fit vendors to your established requirements, helping the company determine a shortlist of vendors within the gueardrails of procurement. Olive also enables you to pivot to your business needs, allow for flexibility over time, and collaborate easily with key stakeholders – given the agile nature of the platform.
‍
Want to learn more about how Olive can automate the tedious aspects of strategic sourcing?
‍