With so many ERP vendors pushing their strengths and agendas, it's difficult to know who to pay attention to. With this in mind, it's essential to compare ERP systems to find the best one to fit your business goals and needs. Below, we've outlined some straightforward considerations and steps to follow to compare ERP systems. 
Choosing an ERP system isn't a decision to be taken lightly. Although most ERP systems provide similar functionalities, the choice can mean the difference between dramatically improving business performance and profitability when getting it right or ending up with subpar processes and decreased performance if it goes wrong. 
What is ERP Software? 
The term enterprise resource planning (ERP) was introduced in the 1990s to describe software that helps to manage and automate end-to-end business processes across a company. Initially, ERP systems were implemented on-premise: on the clients' servers and in their data centers. However, in the 2000s, the inception of cloud ERP changed the game. 
Cloud-based enterprise resource planning (ERP) is enterprise resource planning software accessible over the Internet. As the IT backbone of a company, cloud ERP software provides advanced functionality for all core organizational processes. 
ERP software is one of the most comprehensive solutions for companies needing back-end organization, with features tailored to businesses of all sizes and industries. An ERP system allows companies to centralize many key elements of their production line, building a more productive and cost-effective business model. With cloud-based ERP growing in popularity, now is a great time to invest in this software: 
the global Cloud ERP market is estimated to grow from USD 64.7 billion in 2022 to USD 130.0 billion by 2027 at a Compound Annual Growth Rate (CAGR) of 15.0% during the forecast period
Global Cloud ERP Market Report 2022 to 2027
Why Compare ERP Software? 
Why not buy the most popular ERP software on Gartner, G2 Crowd, or Capterra? While these platforms can give you a good overview of the top-rated ERP vendors on the market, shortcutting the process and only reviewing a few solutions in the space is fraught with risk and bias. Choosing the wrong solution will cost you in the long run, while finding the best solution will help your business grow and bring about digital transformation. Although comparing solutions to needs is a long process, it is necessary to find the right solution. 
The most popular vs. ''the best'' ERP System 
Remember, the most popular ERP software may not be the best fit for your business needs. For example, let's compare SAP and Oracle's ERP. Many organizations narrow down their choices to SAP or Oracle, and although these are winning in the ERP leaderboard, they may not necessarily be the right choice for your business. The 'best ERP' is the one that meets the needs of your business. Not the first search result on Google, or the highest reviewed system on G2 or Gartner. Not the best-known ERP. Identifying which is best for your business needs is traditionally a slow and manual process. Unless you conduct a thorough ERP evaluation, you will never understand which ERP system is best for your business' bespoke needs and why.
How to Compare ERP Solutions
1. Understand the business needs in the form of requirements.
Comparing ERP solutions to your business requirements is crucial in selecting the right system for your business's needs. Thinking about your current business processes will help you determine exactly what the organization needs from a new ERP system, how it will fit into the company, and what technical and functional requirements are needed to carry out your day-to-day business operations. The idea at this stage is to build a clear picture of how your business currently operates and how the right ERP could improve those operations.
2. Include the right stakeholders when gathering and ranking
ERP evaluation criteria/requirements
Ensure that all relevant stakeholders collaborate to compare ERP solutions to your business requirements and that each requirement is well-written and clear. Later you will use these requirements so that potential software vendors can demonstrate their product's capabilities within your business needs. Consider how a potential ERP software solution will work within your company's current infrastructure.
What are your business goals for the next year?

What areas of the business are growing, and what areas are shrinking?

How could the right ERP benefit our company?

Do we have the right budget for our needs?

What does a successful implementation look like for our business?
When you and your team are clear and aligned on what your business needs are, the next step is to define and rank your must-have ERP requirements list, the non-negotiables that the ERP system must have, including but not limited to;
Cost

Functional requirements

Security

Integrations with current enterprise software infrastructure
When you have defined your must-haves, you can look at your nice-to-have requirements. This may include;
User Experience

White labeling and branding

Mobile platform
3. Compare ERP Solutions to the Business Requirements 
You will likely not have time to compare different ERP software vendors manually in spreadsheets. Using Olive, companies can manage all stakeholder's requirements, in one online platform. Olive's collaboration and agility speed up the requirements gathering and ranking process and help you compare ERP vendors against your company's requirements. 
Olive Features to Compare ERP Systems

Olive's ERP Project and Requirements Templates
Olive's ERP Evaluation project template helps you kick off your ERP Evaluation. Olive's ERP Evaluation Project Template comes pre-loaded with; discovery surveys, standard ERP requirements templates, ERP Vendor lists, responses to requirements from vendors, and user feedback. Learn more here.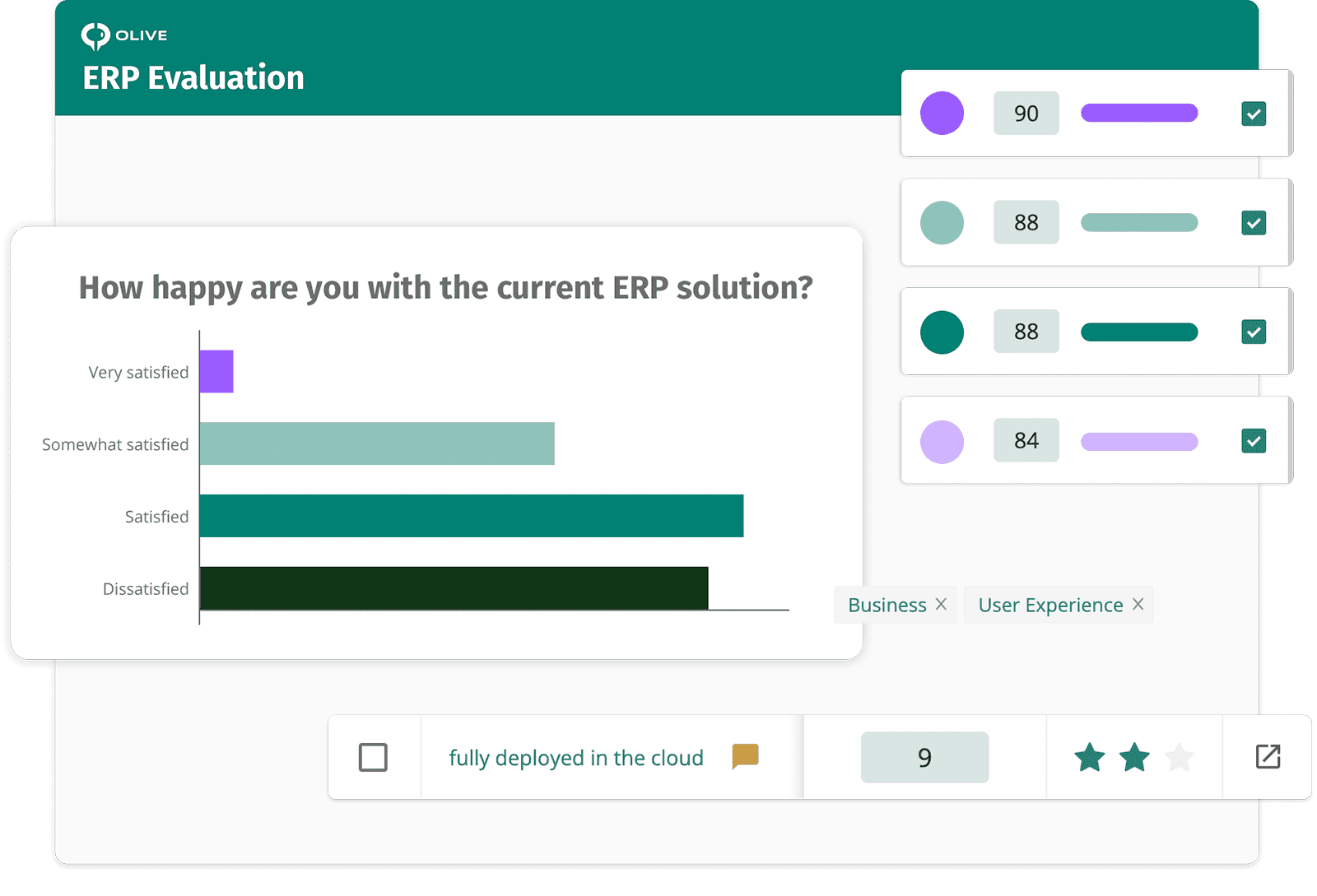 Invite ERP vendors to respond to requirements.
This step is usually done in an RFP. Olive allows you to invite vendors to respond to requirements without revealing your client's or business's identity. Olive does not charge ERP vendors. We facilitate vendor-neutral decisions based on your needs, not what vendors sell or subjective reviews.
Compare ERP Vendors to Criteria  
Gartner, G2 Crowd, and Capterra can give you a good overview of the top-rated ERP vendors on the market. This compares the solutions based on incentivized user reviews. While reviews should play a part in your decision, they may be biased, and their use case is completely different. You must compare vendors to your ranked requirements to find the best-fit solution. Shortcutting the process and only reviewing a few solutions in the space is risky. Choosing the wrong solution will cost you in the long run. Olive automates this process and gives you a side-by-side comparison of vendors. 
Compare ERP Systems in 66% Less Time with Olive.
Choosing the best cloud ERP software may seem daunting, but it doesn't have to be. Olive helps you find the best-fit cloud ERP software to fit your business needs.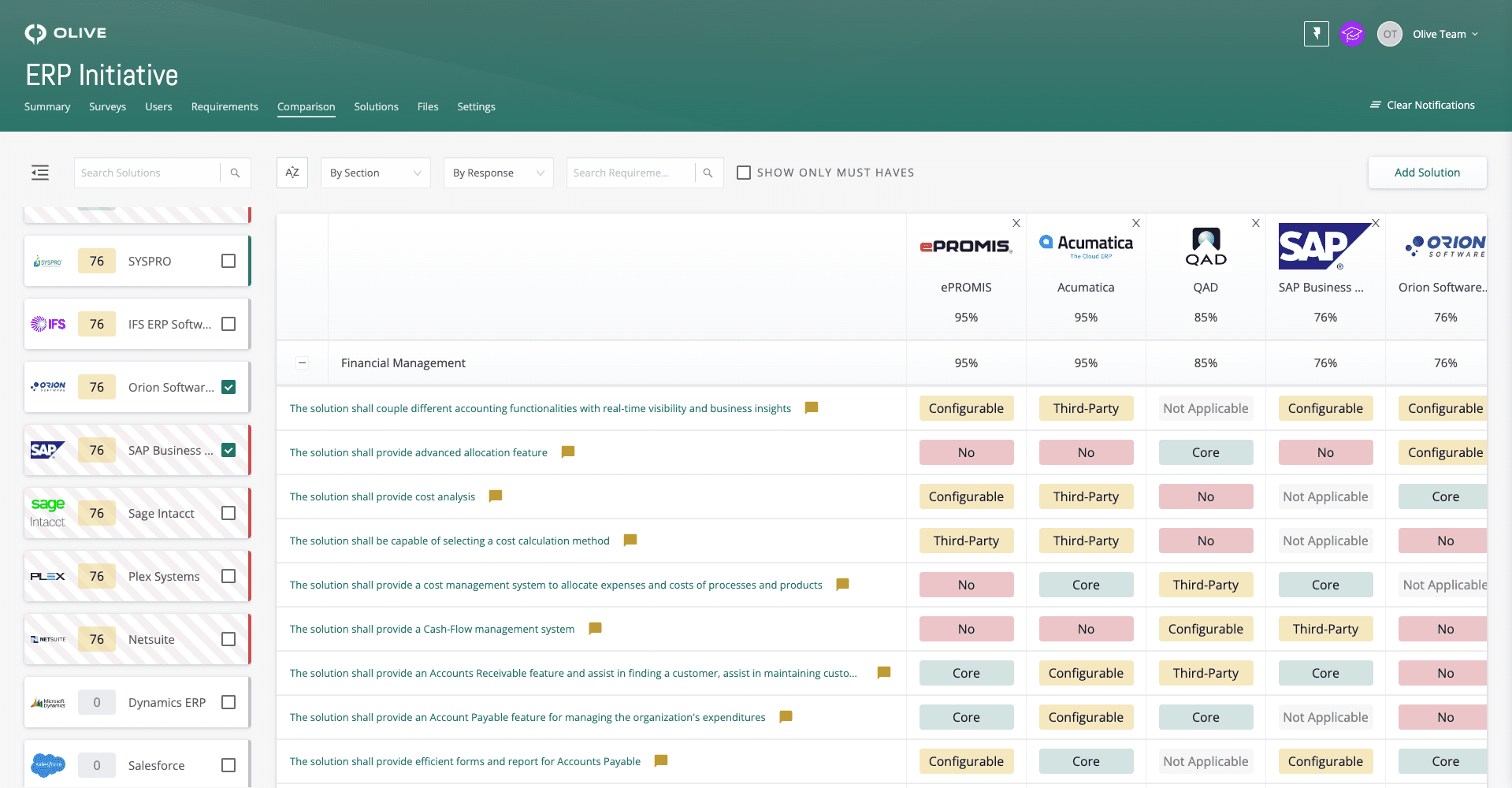 ERP Comparison in Olive