Digital Technologies Transforming Retail in 2024 and Beyond
The retail industry is continuously evolving, driven by changing consumer behaviours and technological advancements. As the industry faces new challenges and opportunities, it is crucial for retailers to stay ahead of the curve by embracing the latest technology trends. In this blog, we will explore retail technology trends that are set to revolutionize retail in the next year, based on insights from industry experts and reports.
The retail industry is one of the most important ways humans interact, consume and exchange value. It will change, but it will never go away. From the invention of the first cash register in 1883 to barcodes and inventory tracking methods in 1974, this is not Retail's first rodeo in adapting to consumer behaviour with technology. World events have permanently modified the retail industry. Brands that embrace new behaviours and attitudes tend to weather the storms. Two Christmases ago, we saw retailers scrambling to offer solutions for customers to buy online. With global recession rumours swirling, those surviving retailers that may have put off change, have an entirely new challenge ahead.
Innovation in Retail
The retail industry is continuously evolving, driven by changing consumer behaviours and technological advancements. As the industry faces new challenges and opportunities, it is crucial for retailers to stay ahead of the curve by embracing the latest technology trends. In this blog, we will explore three technology trends that are set to revolutionize retail in the next year, based on insights from industry experts and reports.
Changing Consumer Behaviours and Technologies Driving The Retail Industry's Digital Transformation
The past few years have rewarded Retailers who have been agile enough to embrace Retail Digital Transformation. Economists predict a recession in Q2 2023, so more challenges lie ahead. According to a 2022 PwC Customer Loyalty survey, one in four consumers has stopped buying or using a retailer due to a bad experience with a product or customer service. More than half, 55%, will stop using or buying from a retailer after several poor experiences. 8% of consumers will stop buying or using a retailer after just one bad interaction. Can retailers afford this with a recession coming in Q2 2023?
The past few years have allowed us to glean many insights on what is working and what's not in Retail. Even as shops worldwide show signs of growth after the pandemic, there is little doubt that the retail industry has changed forever. Technology is transforming many industries, but nowhere do we see this change more than in Retail. Most of us can recall a recent experience where we – as consumers – have changed our behavior to react to this "new normal." This changing behavior, is driving Retail's digital transformation.  Nowadays, consumers expect retailers to meet these new needs.
Finding Best-Fit Retail Technologies Drives Digital Transformation
Retail IT departments and CIOs are looking for the best available technology to navigate this new normal. What is the silver bullet that can transform the way they do business? Maybe it's a POS that integrates with your E-commerce and BOPIS solutions, bridging the online and in-store experience? Perhaps it's a new LMS so you can efficiently offer employees the practical training required to improve consumer satisfaction and loyalty. Maybe it's a cloud-based ERP to gain the information needed to manage customers and retention. Finding best-fit solutions that enhance the experience, is transforming the way the retail industry does business, and the effects will undoubtedly remain in 2023 and beyond.
"COVID-19 didn't create a retail apocalypse, but has been its most swiftly destructive horseman".
Andy Markowitz
What Technologies Will Help Retail Innovate and Thrive Under Recession-Like Market Conditions?
Ultimately the best technology for retailers are solutions that remove any obstacles to the customer experience and make it easier for customers to buy. In recent years Retail has adopted many new digital technologies, hastily introducing POS systems, CRM platforms, ERP systems, AI (Artificial Intelligence) systems, RMS (Retail Management Software), and many more. However, speeding through the process can lead to problems down the road. It's essential to go through the traditional software evaluation process to choose and procure solutions.
Defining the business problem to solve for, including the right stakeholders, and methodically working towards the right solution that meets every need is necessary to ensure that you don't waste resources on the wrong tech. It's never been more critical for CIOs in Retail to get it right and choose the best solution for the company's needs. How do we link these technologies back to the customer experience to achieve digital retail transformation? What technology should Retail invest in to improve the customer experience?
Retail Technology Trends in 2024
1. Phigital Retail
Phygital retail" is a term that combines "physical" and "digital" to describe an integrated and seamless shopping experience that combines elements of both online (digital) and offline (physical) retail. The concept recognizes the evolving nature of retail in the digital age, where consumers seamlessly transition between online and offline channels during their shopping journey.
In a phygital retail environment:
Online Presence: Retailers have a robust online presence, often through e-commerce platforms and mobile apps. Consumers can browse products, read reviews, and make purchases online.
Offline Presence: Physical stores are still a crucial part of the retail strategy. These brick-and-mortar stores may serve various purposes, including product display, customer service, and order fulfillment.
Integration of Channels: The key aspect of phygital retail is the integration and synergy between online and offline channels. For example, customers may order products online and choose to pick them up in-store, or they might return online purchases to a physical store.
Technology Integration: Retailers leverage technology to enhance the overall shopping experience. This may include features like augmented reality (AR) for virtual try-ons, in-store beacons for personalized offers, and digital signage for interactive product information.
Data Utilization: Phygital retail relies on data analytics to understand customer behavior across both online and offline channels. Retailers use this data to personalize offerings, improve customer engagement, and optimize the overall shopping experience.
Omnichannel Approach: Phygital retail is part of the broader omnichannel retail strategy, where the focus is on creating a seamless and consistent experience for customers across all channels.
The goal of phygital retail is to provide consumers with a flexible and convenient shopping experience, allowing them to engage with a brand both online and offline based on their preferences. This approach recognizes the interconnectedness of physical and digital retail channels in the modern consumer landscape.
2. AR, VR, and the Metaverse Will Bring Consumers Into Immersive, Experiential Digital Spaces
A great customer experience remains a primary expectation for 2024's consumers. Technology continues to drive this. Customers expect a seamless consistent and memorable shopping experience. Much excitement has been raised about immersive experiential digital shopping environments where consumers can shop on the platform, using AR and VR.
VR is the most immersive way to connect with the metaverse. Although the future of the metaverse remains questionable, retailers are exploring AR and VR solutions to create an immersive and fun experience where shoppers can shop in a simulated environment.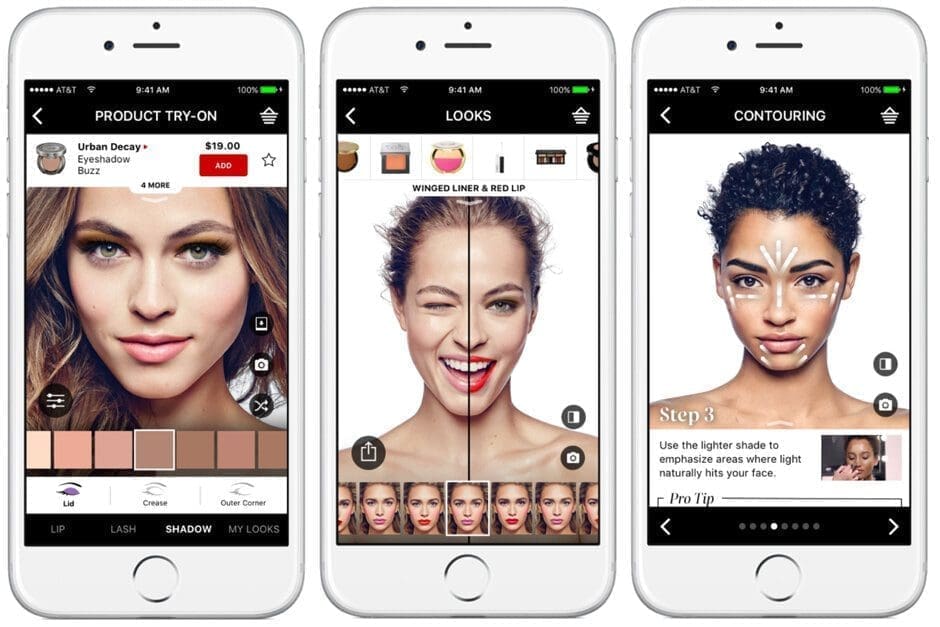 Retailers, including Hugo Boss, Walmart, and Amazon, allow customers to virtually try on clothing using digital representations of themselves, an extension of the earlier use of AR by furniture companies. IKEA's app was one of the first AR apps to be released using Apple's augmented reality technology.
As 'pandemic fatigued' shoppers become increasingly more enamored with immersive, fun shopping experiences, companies will adopt technologies to excite and delight their customers.
"Although no one is exactly sure what shape the metaverse will eventually take, retailers have already embraced it with enthusiasm as a new and exciting channel through which they can connect and do business with customers. Adidas, Nike, Tommy Hilfiger, Samsung, and Burberry are well-known names that have either already established a presence [in the metaverse] or stated that they plan to do so."
3. Customer Experience Journey Mapping
One emerging trend is the relationship the consumer has with the brand and where it now begins. Not so long ago, window displays, visual merchandising, and traditional advertising were the primary methods in which brands communicated with their customers. Nowadays, the conversation and introduction to the brand often begins online and follows the customer right into the store.
Technology supports the seamless integration of online and offline channels with smart digital services that facilitate end-to-end customer decision journeys.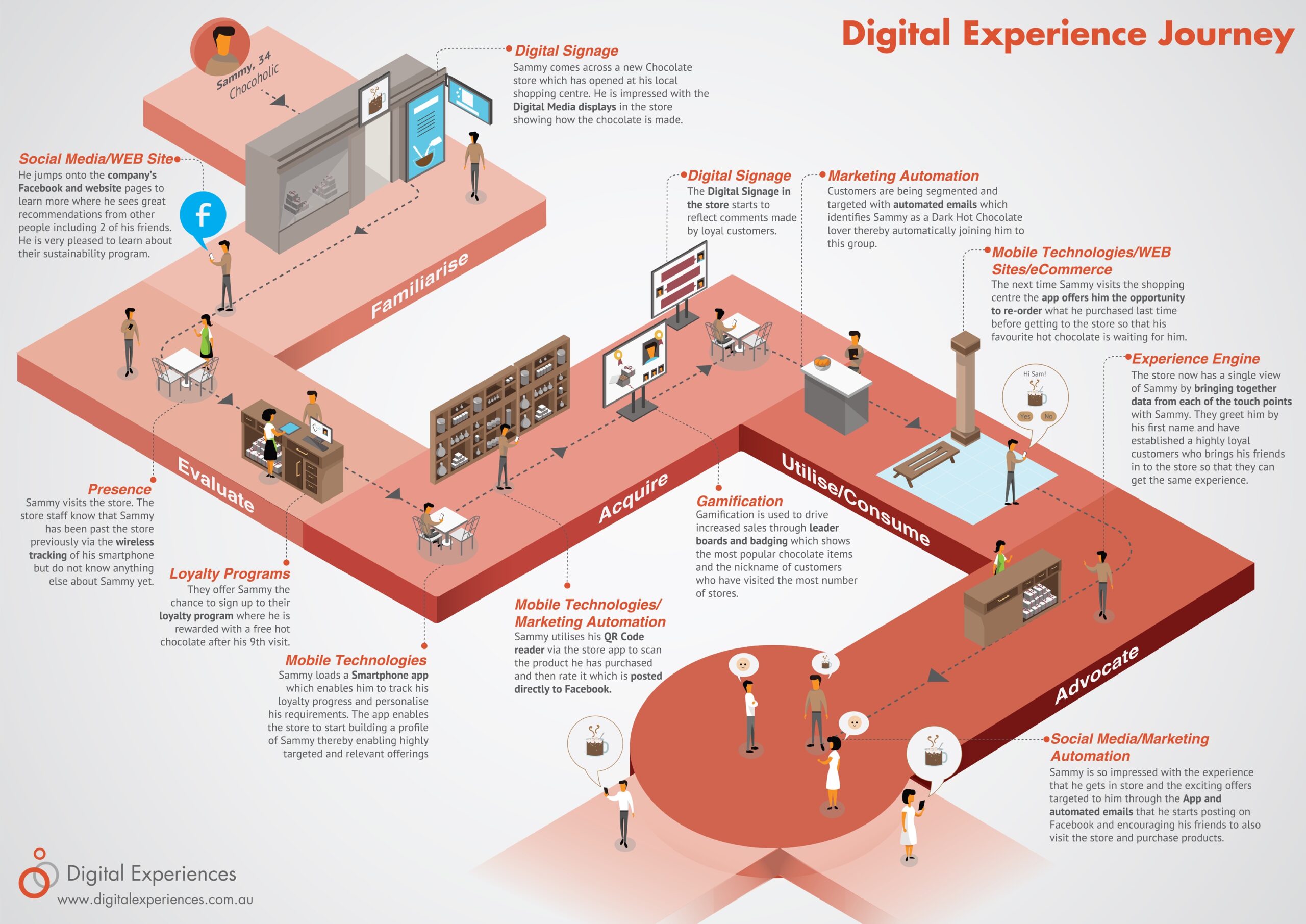 This article does a great job of helping retailers map the Customer Experience Journey, both online, and in stores. Looking at the diagram above we can see there are many different solutions required to enhance the experience and improve results. Finding not just each solution but the suite of solutions that can integrate, and meet the needs of the retailer to deliver the best experience is key to driving successful retail digital transformation.
Understanding the customer's journey using Business Intelligence, Insights, Data, and more will help build a better customer experience journey map and identify gaps that perhaps new technologies can fill.
4. E-Commerce
Looking at the trends, E-commerce will continue to drive retail sales in 2024 and beyond. The category has grown for over a decade compared to brick-and-mortar retail. Benedict Evans
Over the past three quarters, U.S. e-commerce has grown as much as it normally would in three years.
This is unprecedentedly fast. Customers nowadays expect a seamless online and in-store experience.

5. Optimize Supply Chain and Fulfillment
(ERP, IoT, AI, Demand planning software)
With customer expectations rising, companies have begun to adopt and integrate new technology to transform their supply chain from an operations hub into the epicenter of business innovation. By leveraging AI, machine learning, and predictive analytics, companies can optimize and automate operations to improve delivery times, manage inventory, optimize customer experiences, and create new experiences that increase satisfaction and boost sales.
Technology solutions for the supply chain include advanced, real-time management; cross-channel order management; and automated logistics, HR, and finance.
6. The Right Product in the Right Place at the Right Time
(Warehouse management software, demand planning software, SCM solutions)
Seventy-one percent of retailers say "lack of real-time inventory visibility" is a supply chain obstacle that reduces efficiency and productivity. Retailers should have a clear and accurate understanding of inventory to meet consumer demands and expectations. Products need to be in the right place at the right time, and Retail needs to have this real-time data on hand to avoid losing sales. Lockdowns worldwide exacerbated supply chain systems and processes for many retailers. These issues had a trickle-down effect on consumers; stores missed out on sales because of this lack of visibility into supply chain issues. Inaccurate inventory counts led to consumer frustration after orders were accepted, not filled, and ultimately refunded or canceled.
"When a retailer doesn't have a product, has the wrong product, or even worse, doesn't know if they have a product, they can't sell it – and their shopper will go elsewhere to find it."
POS, BOPIS, eCommerce (Buy Online Pickup In-Store)
With the right eCommerce, POS, BOPIS (Buy Online Pickup In-Store) solutions and integrations, retailers can deliver a seamless conversation to customers that encourages them to buy more, more often. Making it easier for customers to buy is now essential and expected by the public. With the right software solutions, Retail can benefit from lower operating costs, customer tracking, expanded reach, and improved customer experience. Even before COVID-19, the concept of offering BOPIS had been growing. Now, customers expect BOPIS. Customers like to feel like they are in control of the buying process. They are too busy to browse items in-store, and they are more comfortable buying online. BOPIS allows retailers to blend the online and in-store experience to engage with customers while offering a more convenient way to shop. Integrating your eCommerce platform, BOPIS and POS can only lead to more accessible opportunities for customers to increase your average sale and strengthen your brand.
One brand that is leading in this is Best Buy. Best buy has been working with partner 3C Interactive to tap a growing communication protocol called Rich Communication Services that can enhance basic text messages with product images, maps for in-store pick up, and more details on purchases. This creates a more seamless interaction between in-store and online communication.
7. Leverage Customer Data
Customer Data Management (CDM), Customer Data Platforms, AI (Artificial Intelligence), VoC (Voice of the Customer Software)
Customers are spending much more time online, and thus, digital transformation projects moving at a snail's pace are now the top priority. In 2021, a robust online presence is critical for Retail. 2020 pushed companies over the "technology tipping point," which has changed marketing and operations forever. Retail can harvest data from this increased time online. Listening to your customers through data can open up a wealth of advantages. Voice of customer software (VoC) delivers insight into the customer's behavior. Understanding and measuring customer experience through data can provide measurable results such as enhanced customer experience, revenue growth, and operational procedures.