Finding the right P&C Technology Solutions is key to digital transformation success. In 2018, insurtech investment stood at $4.9 billion. For the first half of 2021 alone, that figure stands at $7.4 billion. What the P&C customer base expects of their insurance providers has clearly not gone unnoticed.
The property and casualty insurance industry is getting used to disruptive change. Carriers face fluctuating client demands. Cybersecurity and climate disasters are growing in frequency. Small commercial insurance has far more competitors than it used to. Price wars no longer yield the same competitive edge.
Of all the many challenges gripping P&C insurers, digital transformation is providing the most significant benefits. Let's take a look at the advantages and trends that deliver a competitive edge and how you can find the right P&C technology solution for your digital transformation.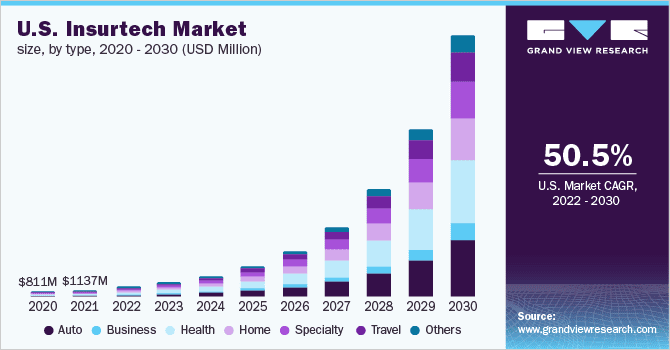 Benefits of Digital Transformation in the P&C industry
Eliminating Commoditization
Customers have long felt like a nameless data point in the algorithmic environment of insurance. The nature of retrieving a quote, purchasing a policy, and processing a claim lacks anything resembling a personal customer service experience.
Artificial Intelligence, omnichannel customer experience, machine learning, automation, and the Internet of Things have changed how P&C insurance can be experienced. Customers can enjoy personal, touchless, and efficient buyer journey's whatever channel they are on. Convenience and personal touch are the new competitive edge and digital transformation is the key to realizing this potential.
Reducing Claim Processing Times
In a study of 15,000 property insurance claimants by Capgemini, only 40% reported a positive experience. The processing and resolution of claims have been beyond repair for the better part of a decade despite it being the exact security being sold by a $638 billion P&C insurance industry.
Leveraging available technologies and consumer's digital preference allows P&C insurers to incorporate better claimant autonomy. Automating claim processes and introducing claims bots cuts the adjudication and payout times from 30 to 15 days. Looking to the future, claims and even the entire risk assessment will be automatable.
Lower Costs of Business
Online and automated transactions coupled with self-serve customer service interactions have the power to drastically improve the cost efficiency of sales. Relying on less human resources means lower insurance rates for customers. In fact, many digital-first insurance providers can boast expense ratios of 10-15% rather than the traditional 20-25%.
Opening New Markets
Climate change is bringing harrowing risks and wanton destruction to many doorsteps. The need for protection and security in the face of the elements has created an industry worth an estimated $3.3 billion in the US. However, spotting and assessing such market opportunities wouldn't be possible without software.
To understand the flood insurance market Cognizant applied a geospatial analysis to data available from the US Census, the National Flood Insurance Program, Google Maps, and Zillow to develop an understanding of the flood market. As the world continues to be impacted by climate change, pandemics, and new events, new P&C markets will be developed using digital technologies. As always, it is those who are first to market that win the biggest share.
P&C Digital Transformation Trends
Predictive Analytics
Predictive analytics has been credited with reducing underwriting expenses, increasing sales and profits for two-thirds of US insurers. It has assisted the nation's biggest P&C insurance companies with pricing and risk selection, policy cancellation risks, preventing fraud, and retaining business. So, how does it work?
PA collects a range of internal and external data to predict customer behavior. Data mining, predictive modeling, statistics, machine learning, and AI are all leveraged to build a more accurate risk profile. Where it differs from the traditional methods is the variety of data points that can be leveraged. Policies are becoming more individualized and accurate for each specific client.
The Internet of Things
Data capturing is viewed through a cynical lens by most consumers nowadays. The annoying pop-ups and consent requests are quickly closed and rejected where possible, meaning businesses cannot glean enough personal information to tailor client experiences. However, for P&C insurers, this is easily overcome when clients request quotes.
The IoT insurance market is expected to be worth $42 billion by the end of 2022 so data and 'cookies' matter. IoT data capturing allows your business to increase revenue, reduce operating costs, streamline workflows and automate everything so your team and your customers are served smoothly.
Touchless Customer Experience
CX and UX are the trending terms of e-commerce. More than ever, clients are purchasing online and have growing expectations for their buyer journey. What P&C insurers need to grasp is that your consumer experience is not just compared to your competition, it is compared to the best of the best. If a client has a perfectly smooth shopping experience with their favorite retailer, that is their benchmark.
If your customer's buyer journey is not streamlined, touchless, filled with personalization and available 24 hours a day, clients will move on. Pleasing clients in this day and age is becoming convoluted. How do you do it? Artificial Intelligence.
AI allows you to automate each step to provide efficient 24-hour self-service that cares about the client. Not only does it take care of your precious clients, but it also reduces task redundancies and salaried expenses. AI and a smooth CX will permeate every part of the industry so getting involved early puts you ahead of the pack.
How to Find P&C Solutions that Drive Digital Transformation
Digital innovation and transformation is the undeniable future for P&C. The process of making the requisite changes, however, has been a touch less clear. How can you digitally transform successfully if it hasn't been done before? By following a successful digital transformation process.
1. Understand the Business Need for a Digital Solution
Start by determining the true business case for investing in a software solution.
Determining your needs is not as straightforward as it sounds. It isn't just a 20-minute meeting between the executive team to decide what software you need to purchase. It requires conversations with the necessary stakeholders.
Bring your employees, customers, managers, senior leaders, and even outside experts into the conversation. Understand the root of the problem from those that experience it.
Without understanding the problems, you cannot set objectives or hope to solve ongoing issues.
Survey key stakeholders to determine:
What are the challenges that your business/departments/employees/customers are facing?
What processes are inefficient?
What areas do we expect to expand in the future?
What would a solution look like?
What is an absolute necessity in a solution?
2. Gather and Rank the Software Requirements
Gathering the opinions, suggestions, and ideas of every stakeholder typically requires meetings, long email threads, and job shadowing but it is crucial. Once these opinions have been collected, it is time to rank your top priorities.
At Olive, we call them blockers. What features are must-haves and if the solution didn't have it, should block the purchase? This is another collaborative task as the opinions of the direct users are critical to implementation.
Requirements considerations for P&C Technology Solutions
Functional requirements
Current technology stack compatibility
Cost barriers
Cost structure eg. pay per user
Mobile or desktop applications
Your priority list should clearly lay out the absolute must-haves right down to the nice to haves.
3. Survey the P&C Solutions Market
By now you should be armed with the prioritized and ranked requirements as per your stakeholders. You know what you want, now it is time to find who can provide it.
Start by gathering a long list of vendors who potentially match your priority requirements. This search will typically take place online. You will read buckets of reviews that can enlighten you to other priority requirements but keep a focus on your needs. List as many vendors as efficiently as you can.
Be wary of software review websites like Capterra and G2. Vendors pay to play on these sites so the responses you see to your searches are limited to their affiliates. There could be dozens of better-suited options out there for you that you don't see.
4. Shortlist Best Fit P&C Solution Vendors
Time to cut the list back to 5 or fewer of the best options. No doubt you will be looking at a list of 10-15 or more attractive options but the search needs to be pared back to who suits you best.
Start by cutting out all options that are far enough over budget to make it not worth negotiating. Follow this up by stripping out all vendors who do not meet your top needs. If they don't satisfy your stakeholder requirements, implementation will be a nightmare.
You should be left with a handful of vendors. Invite a small selection of stakeholders to rank the remaining vendors in order of preference and how well they serve your list of requirements. The top 5 vendors are likely to be your best match options.
5. Demo the P&C Technology Vendors that Meet Your Criteria
Invite the top 5 vendors to give your stakeholders a demonstration of the software solutions you are interested in.
Take note of any vendors who put up resistance to giving a demo. Software salespeople are not used to a rigorous vetting process and want easy sales quickly. The tactic will be to sell you the most impressive and popular features. Don't fall into the trap. You are not there to be dazzled, you are there to see how well their products satisfy your needs. Be prepared to ask the hard questions if the answers weren't provided in the demo.
P&C Technology Vendor Questions
How does your product meet our priority requirements?
Are there post-purchase costs?
What features are you working on that could impact our future?
What after-sales support do you provide?
Is this compatible with your current tech stack?
What training is required?
What is the pricing structure and is it flexible?
No matter how great the pitch is, you are there to find the perfect solution for the end-users and other stakeholders. Conduct thorough due diligence after you have settled on a favorite and ensure that your business needs are met.
Using Olive to Evaluate P&C Solutions
Insurtech investment rates and customer buyer behaviors have demonstrated exactly where the P&C market is going. Digital transformation is a constant cycle and to stay ahead of the market, insurers need an efficient tool. We understand that you don't have time to go through the full-length process every time an innovative technological change is required. You need an efficient, unbiased software selection process, and that's exactly where Olive comes in.
Olive is not influenced by vendor bias, quick sales, or short-sighted change. Olive is a digital transformation tool that empowers you to make informed decisions that efficiently hears the opinions of all necessary stakeholders. Once the needs of your business have been gathered, we match the best-fit vendors to solve your headaches. You don't get a list of vendors who have paid to be seen. You get vendors with a percentage rating and visual representation of how well they fit your needs.
Olive is here to disrupt the market because software salespeople have had the power for too long. We think you should be fairly equipped to find software solutions for your future easily. Olive gives you the platform to make confident software decisions with the full support of your enterprise. Get in touch if you need help finding P&C Technology solutions for your enterprise, or clients!