The rapid adoption of hybrid work and the acceleration of digital transformation during the pandemic is here to stay. As a result, clients will demand their consultants and consulting firms to prioritize digitization and leverage the benefits of digital transformation tools. On top of this, Subject Matters Expertise (SMEs), client ROIs, increased demand for strategy, and the need to hone a specialized niche, among more, will also take precedence. To remain competitive, consultants must stay up-to-date with emerging trends. Here, we discuss some of the key consulting trends predicted to emerge in 2023.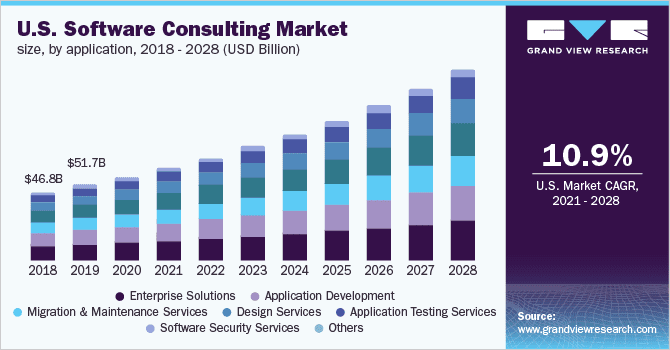 What Digital Transformation Trends are Disrupting the Consulting Industry in 2023?
1. Consulting After The Pandemic: Digital Transformation for Consultants
The role of the consultant will continue to experience change into 2023 and beyond. In the past, consultants visited offices and locations to meet with clients to understand their needs. However, from now on, onsite consulting is expected to be an antidote to crises only. Consultants will continue to work from remote locations across the world and communicate virtually with clients. Tools used to accelerate and automate the tedious process of gathering requirements and collaborating with stakeholders will be adopted. There will be higher demand from clients for specialized and skilled resources. The demand for automation  will also become increasingly prominent as remote work takes precedence over onsite collaboration.
2. Recession Proof Consulting: Adopt a Lean Digital Transformation Strategy
Lean is a term used to describe the strategic, tactical, and operational improvements that organizations undergo to create more value for their customers. Lean digital transformation has become synonymous with efficiency and predictability, making lean an attractive system for vast organizations and consultants when it comes to digital transformation. Offering advantages such as operational improvements, enhanced customer experience, and increased employee engagement – lean offers a more efficient organization with larger growth and greater innovation even during a recession.
3. Increased Demand for Expertise In Niche Areas
As an authority in a particular area or topic, Subject Matter Experts are uniquely qualified to provide guidance and strategy. SMEs are especially in high demand in workplaces requiring a technical approach to operations and culture. Because the consulting industry is shifting its focus from high-value short-term projects to longer-term strategy development, the role of the SME is becoming increasingly vital.
In 2022 and beyond, expertise in niche areas/sectors will dominate the new demand for strategies, and consultants/consulting businesses that provide niche offerings will stand out as clear differentiators in the crowd.
4. Combine Your Niche With the Right Digital Solutions
Combining your niche with the right technology will give you a competitive edge. Because today's business strategy is technology-enabled, consultants need to leverage technology to inform strategy instead of the reverse. When technology is used correctly, it can help companies achieve their business goals and deliver measurable results. For consultants, leveraging the benefits of digital transformation requires creating a strategy, getting the input of stakeholders, and deeply understanding business needs. Once you have established your niche, ensure that you have the right digital transformation tools to establish your business amongst the competition.
5. Clients' ROI: Sustained Margins
Until a few years ago, businesses relied on immensely powerful consulting firms – the ''Big Three'' – BCG, McKinsey, and Bain. However, the high prices often prevented businesses from hiring these consulting services. But now, businesses can find top consultants without engaging with a single consulting firm. Thanks to freelance consultant platforms, a lot more businesses can now hire well-qualified freelance management consultants. This allows businesses to select the best consultants from niche areas, instead of spending exorbitant prices on one big consulting firm. It's fair to say that clients are becoming increasingly price savvy about consulting services, and they are availing of freelance and boutique firm services which do not have the added frills and costs – and are therefore able to quote a much lower price compared to consulting firms such as the ''Big Three''.
What's more, even billing models are being disrupted because of clients' pricing concerns; firms are looking for more adequate ROI and solid proof of consulting quality. Additionally, online technology tools have proven to be industry disruptors – eroding margins and profitability for large consultancy firms.
6. Increased Demand For Strategy Amongst Consulting Firms
The growth of strategy as a function has seen corporations scurrying to build their own internal strategy teams. Strategy is becoming increasingly commodified, forcing a reconfiguration of management consulting. In order to stay relevant, big consultancies have been forced to double down on their strategy execution – including digital and technological consulting. Consultants and consulting firms that will thrive will provide clients with strategic offerings backed by robust AI technology and digital products. AI offers a myriad of solutions, including: a reduction in human capital, a repurposing of human assets, forecasting accuracy, and more. Some large firms have already incubated data-driven technology solutions, promoting asset-based consulting models, and are on track to reaping the benefits of being digital disruptors. Automated decision-making, predictive analytics, machine learning, and codeless software will play major parts in creating strategy, alongside the need to streamline and automate repetitive administrative tasks in order to improve productivity and efficiency.
7. Clients Will Seek Consulting Advice To Focus On Core Vs Non-Core Activities
According to Source Global Research, organisations are having a fundamental rethink of the core/non-core issue, and that will have profound consequences for consultants and consulting firms in the future. "Core" activities are generally defined as strategic tasks that improve customer value and drive profits. "Non-core" activities are generally defined as day-to-day routine tasks that add little value and are not a profit center.
The reason behind this shift to core activities is largely technology-driven: in the past, technology was up against the corporate wall, it was generally considered a non-core activity, handed over to third parties to deliver a better service for less. But today, technology is more likely than any other factor to be a core activity. This means that organizations  will increasingly rely on third parties to do core work.
8. Digital Transformation for Core Consulting Activities
Consultants are all too susceptible to spending too much time and resources during a technology evaluation, only to end up with a software solution that they will not end up implementing because it does not fit their needs. At Olive, we believe that it all comes down to the quality of your evaluation process. The quality of your evaluation depends on reducing three things: complexity, bias, and time taken to purchase the best-fit solution – and these factors can be hugely reduced by harnessing the power of the right innovative technological tools. 
Digital transformation success also relies on gathering the right requirements. However, this isn't a possibility without talking to the right stakeholders and understanding their needs. Collaborating with the right stakeholders reduces the risk of choosing the wrong solution. Valuing the voices of stakeholders creates a compounding benefit throughout the requirements gathering process. With the right input and validation, consultants can be confident in a seamless implementation and high user adoption.
To remain competitive, consultants must develop skills to deal with and adapt to the fast-evolving digital and technology market.  As more and more companies seek digital transformation, today's successful consultants excel at highly adopted technological implementation – from project start to finish. Consultants that leverage the automation will deliver more with less effort and will see their clients reap the benefits. Olive aims to help consultants digitize their process and release time to build a successful business.
The Future of Consulting
The rapid rates of digital and technological transformation are here to stay – and consultants need to keep up with these trends – to thrive. As clients increasingly demand digital fluency, consultants must prove that they are leveraging digitization to the best of their advantage. Automation disruption should be celebrated, and not shied away from. Tools like Olive can help expedite the automation process. Olive's process facilitates an agile collaboration process with robust requirement libraries and internal survey features, making it easy to capture, prioritize, and manage the business needs and requirements, no matter the complexity. Olive guides you through the technology evaluation process and lets you compare vendor responses to the requirements. Olive users can get to a shortlist of solutions in less than four weeks.
Reap the benefits of decreased admin time, store data in one consultancy tool, manage all clients and projects in the app. You can make templates out of your projects and access requirements and surveys to reuse on future projects and evaluations. With Olive, you'll be able to speed up evaluation time. Decreasing time evaluating, gets you to implementation and ultimately revenue faster.