Digital transformation has become a crucial driver of success. To shed light on this transformative journey, we delve into MIT's groundbreaking research on the five building blocks of digital transformation. At Olive , we understand the significance of these elements and are excited to share our insights on how they can propel your business to new heights.
"Companies are under pressure to transform into digital businesses. Research from MIT offers a road map for tackling massive organizational change."

Digital transformation is not just a buzzword; it's a strategic imperative for businesses seeking long-term success in today's competitive landscape. Recent world events are pushing companies to rush into digital transformation, and without a strategic approach, companies will be left behind.

What are the 5 Building Blocks of Digital Transformation?
The 5 Building Blocks of Digital Transformation, a set of crucial elements by MIT, includes the Operational Backbone, a foundation of integrated systems and processes to ensure efficiency; the Digital Platform, a repository of components for rapid innovation; Shared Customer Insights, organizational knowledge about customer demands; an Accountability Framework empowering agile teams, and an External Developer Platform to foster a collaborative ecosystem.
According to MIT, the 5 building blocks are as follows:
1. Operational Backbone
At the heart of digital transformation lies the operational backbone. This integrated system comprises standardized and automated processes, ensuring efficiency, reliability, and transparency in operations and transactions. With a strong operational backbone, your leadership can focus on innovation and digital offerings, setting the stage for future growth.
2. Digital Platform: Enabling Innovation
A digital platform serves as a catalyst for innovation, providing a repository of business, technology, and data components. By assembling and reusing these components, you can create personalized digital offerings that cater to diverse customer segments. Embracing a digital platform enables you to steer clear of siloed systems and adapt swiftly to evolving customer needs.
3. Shared Customer Insights
Understanding Customer Demands To thrive in the digital landscape, it is crucial to understand your customers deeply. Shared customer insights allow you to accumulate valuable organizational knowledge about customer problems and solutions. Continuous experimentation and testing ensure that your digital offerings resonate with customer demands, avoiding the pitfalls of underestimating market needs.
4. Accountability Framework: Empowering Agile Teams
As digital transformation drives organizational change, traditional hierarchical decision-making processes become obsolete. Instead, an accountability framework centered around components empowers agile teams to take ownership and drive innovation. This fosters a culture of collaboration and adaptability, propelling your digital transformation journey.
5. External Developer Platform: Extending the Ecosystem
The final building block, an external developer platform, unlocks opportunities for growth and innovation. By inviting partners into your ecosystem, you can co-create end-to-end solutions that meet increasing customer demands. However, it's crucial to establish a solid foundation with the other building blocks before expanding your external developer platform.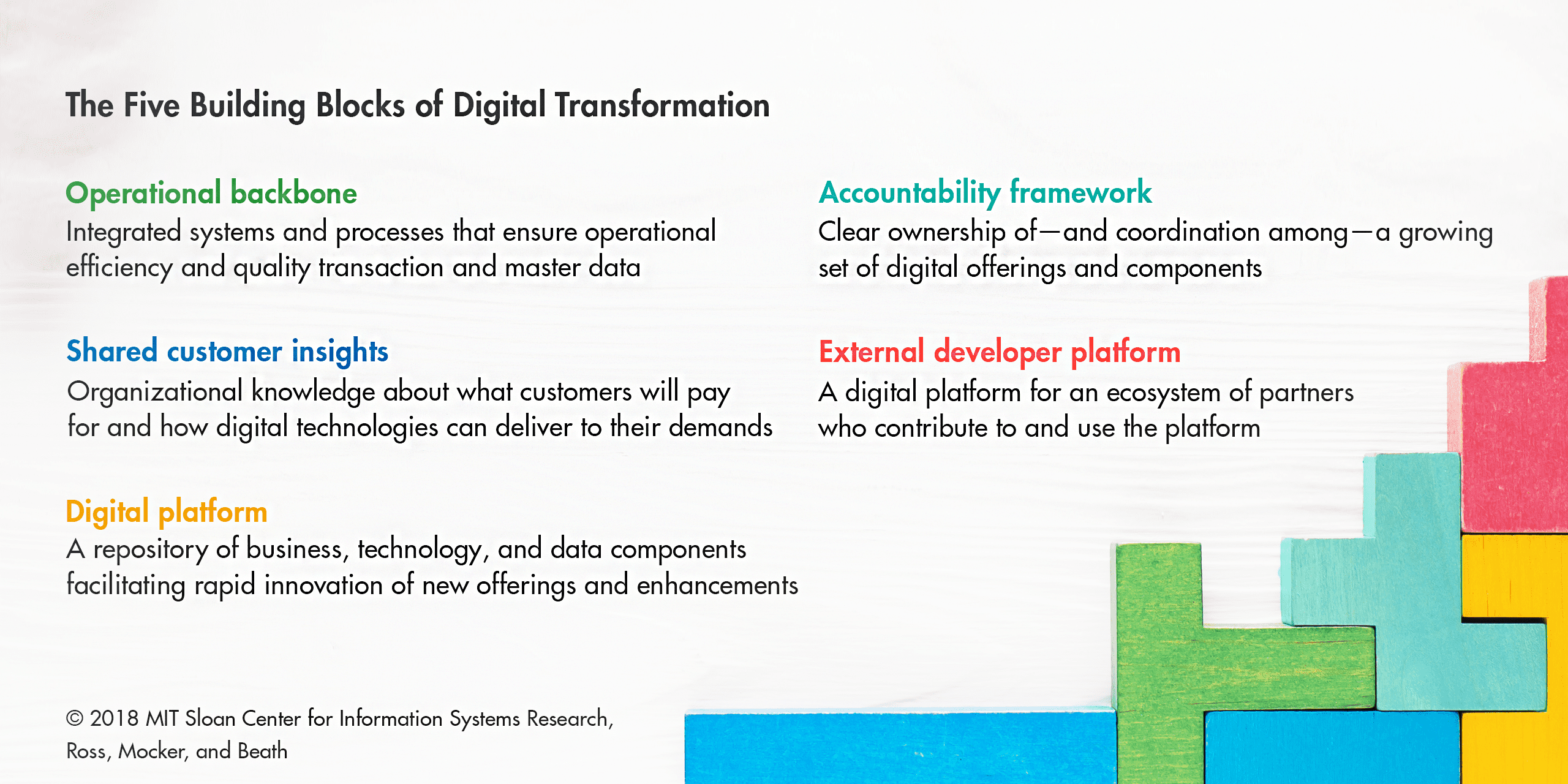 MIT's research sheds light on the crucial building blocks that organizations must master to become true digital powerhouses. Yet, MIT acklowleges that the path to digital transformation may not be easy. It is fraught with risk, bias and inneficiencies.
In the words of Jeanne Ross, principal research scientist at the MIT Sloan Center for Information Systems Research,

"There is a sense of urgency to initiate and demonstrate outcomes, yet attaining success as a digital business is no simple task. Our research indicates that the primary challenge lies in the fact that most established companies currently lack the necessary capabilities for a successful digital transformation."
Now in 2023, companies still struggle to source digital platforms, and often the ideal innovative vendors are hidden behind a paywall. This is one of the reasons we created Olive, to enable buyers to source ideal solutions for their needs, and give innovative vendors the chance to be discovered based on their functionality, not their marketing budget. Olive's AI-driven approach allows companies to adapt and thrive in the rapidly evolving digital landscape, ultimately positioning them at the forefront of innovation and success.
Olive: Your Partner in Discovery-Driven Digital Transformation
At Olive, we are dedicated to supporting your digital transformation journey. Our AI-driven platform simplifies and accelerates your path to becoming a truly digital organization.
With Olive, you'll experience streamlined technology evaluations and seamless software selection. Our AI-powered platform ensures continuous digital transformation lifecycle management, making complex decisions simple. Intelligent surveys and in-app messaging facilitate smooth communication with stakeholders, keeping everyone aligned.
Unlock Your Business's Full Potential: Olive's vendor comparison matrix helps you identify the best-fit partners, ensuring well-informed decisions and proof of due diligence. As your AI-powered companion, we empower your team with the tools and knowledge needed to thrive in the digital landscape. Stay ahead of the competition, continuously improving your digital offerings for sustained success.