Capturing enterprise software requirements for cloud or off-the-shelf enterprise software solutions is notoriously nightmarish. Author of 'Rethinking Enterprise Software Selection' Chris Doig states that when companies purchase enterprise software, most project failures can be traced back to faulty or incomplete requirements.

When it goes wrong, company stakes are high. Digital transformation is held back. Implementation becomes expensive, stakeholder relationships become strained, and key decision-makers could lose their jobs in the worst-case scenario. We love this quote from Chris Doig;
When the risks are so high and plenty of information out there as to why projects fail, why do so many organizations continue to make the same crucial requirements mistakes?
Why is Capturing Enterprise Software Requirements so Difficult? 
1. Time and work underestimation
When an organization replaces a major software system like an ERP, the first item on the agenda generally looks like ''gather requirements''. Typically, teams underestimate the length and volume of work that goes into the process, which can consist of 50 percent to 75 percent of the work of selecting software, along with a typical length of 6 to 24 months when identifying requirements for an ERP system. 
From our experience at Olive, some clients have seen enterprise software projects run for two years! Even then, their previous implementations had failed. That is just too long. By the time the 'new software is rolled out, the organization's needs, staff, processes, and priorities have more than likely changed. 
2. Unknown requirements
Throughout the analysis phase of the project, crucial requirements are often missed, not being discovered until the implementation phase. These missed requirements can have negative consequences:
They may result in delays and cost increases.

The company does not choose the best-ft enterprise software solution, resulting in a lower ROI than anticipated. 

Missed requirements will cause

outright failure

or missed integrations resulting in the project being abandoned. 

Key stakeholders are left out of the requirements ranking and gathering process, missing out on including critical voices. This results in additional missed requirements and integrations.
"Some consultants contend that users are the only legitimate source of requirements, but this is simply not true. Most users know only their pain points and not much else. When an organization relies mainly on users for requirements, they are guaranteed to miss many of them."
3. Analysis paralysis
When key decision-makers lack confidence in identifying and selecting the software, analysis paralysis can ensue. They may resort to analyzing the problem from too many angles and being too fearful of making a mistake. So rather than commit, they keep extending the requirements analysis.
The solution is to establish a clear set of criteria for evaluating software vendors and then apply those criteria consistently throughout your selection process.
4. Inadequate requirements
Organizations often take shortcuts when capturing enterprise software requirements in an attempt to complete underestimated projects hastily. Requirements must be well written to select best-fit enterprise software.
What Are The Benefits Of A Thorough Requirement Capture Process?
The ROI for finding the best-fit enterprise software is always higher than the cost. In most cases, dedicating the time and effort to effectively developing your requirements equates to a superior finding the solution that best fits the enterprise's needs.
On the opposite end of the spectrum, not spending adequate time on requirements gathering can create a chaotic environment in which stakeholders and teams do not align.
Some of the many benefits of effective requirements gathering include: 
Reduced project chaos

Shorter time to implementation

Digital Transformation Gains.
How to Capture Requirements for Enterprise Software Selection
The requirements gathering process doesn't have to be complicated or superfluous. Follow this step-by-step process to succeed: 
1. Identify the relevant stakeholders
Include both direct and secondary users in your process. Direct users may be your employees, customers, partners, vendors, or anyone directly interacting with the software. Secondary users are those who rely on the outputs of the software. The best advice on requirements comes from those affected by it.
2. Establish project goals and objectives

Take the time to articulate your goals and objectives so everyone is on the same page. Having defined goals gives you a framework to compare solutions and can steward the process for stakeholders. 
3. Elicit requirements from stakeholders
To improve their functionality and output, speak directly to the people impacted. Outline the objectives and discuss what would help them and make their work easier and simpler. Stakeholders should agree that the requirements will fulfill the business objectives. Consider Olive's live surveys, which make it easy to collaborate with stakeholders across the business to ensure all requirements are collected and rated based on company-wide needs.
4. Document the requirements
Skipping over due diligence and going straight to only evaluating a few recommended solutions never ends well. Requirements management software can drive thorough due diligence and gain insights into how well a vendor meets the project's specific needs without having to sift through excel spreadsheets. Instead of using scattered individual requirements documents, Olive provides superior traceability.
5. Confirm the requirements
Once you have elicited and documented requirements, it's time to confirm them with your stakeholders for final inputs and evaluation. 
6. Prioritize and rank the requirements in collaboration with the organization
Ranking requirements in collaboration with key stakeholders ensures a seamless and in-sync implementation. 
Olive is a solution created to help enterprises find their best-fit enterprise software. Olive helps organizations gather, collaborate on, prioritize and rank project requirements. With Olive, key stakeholders align on the selection criteria required for the organization to make the best choice on an enterprise software solution vendor. 
Companies can then invite vendors to respond directly to requirements responses and team and stakeholder insights and assigns ratings to each vendor based on how well they meet the requirements.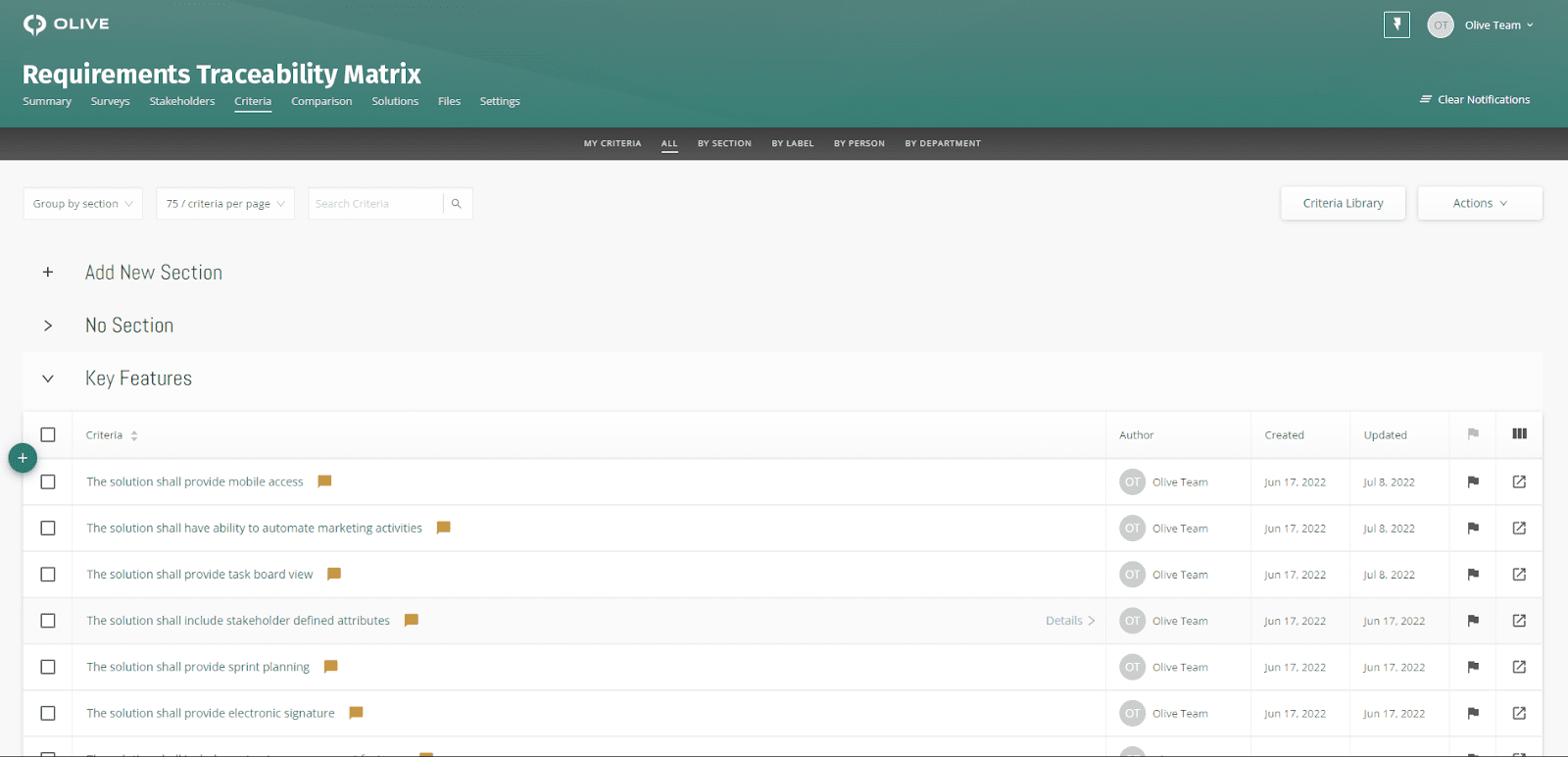 Requirements Traceability Matrix in Olive
Using automated requirements management software to manage requirements is a sure way to save time, increase productivity, improve collaboration, alignment, organizational buy-in, and more.

Olive automates requirements traceability and comes with repeatable project templates, allowing you to preload with initial discovery questions, functional requirements, non-functional requirements, and surveys. Olive users can gather, rank, and satisfy requirements through a streamlined platform which greatly shortens the process.
Acknowledgments
Why capturing enterprise software requirements is so difficult | CIO
Chris Doig – Rethinking Enterprise Software Selection – Stop buying square pegs for round holes.