Enterprises are trying out and assessing new technologies, but many don't have the skills or experience to evaluate them. This article will give tips to help you evaluate new technology vendors.
What is Meant by Technology Evaluation?
Technology evaluation is the study and evaluation of new technologies to understand their relative benefits and costs in the context of their proposed implementation. During the technology evaluation, user interaction issues such as ease of use, ease of deployment, security, invasiveness, and so forth are also considered.
Technology Evaluations are crucial in defining technology priorities and directing funding toward useful implementations. In this era of information overload and technology abundance, performing a thorough evaluation of the products available in the market is necessary.
Ways to Conduct An Evaluation Of A Technology Investment
Technology Evaluation can be conducted internally or externally, depending on its purpose and scope.
Waterfall Technology Evaluations
The Waterfall model is the most basic and intuitive software delivery methodology because its sequential progression is easy to follow. Iterations are allowed, each phase is self-explanatory, and roles are distinct and familiar. Process governance and management are easier compared to Agile due to the simplicity of the setup.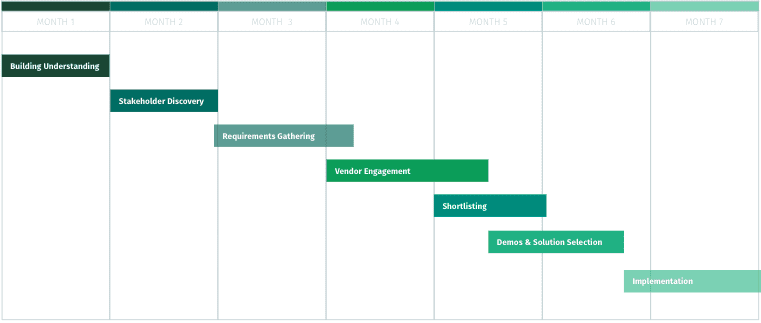 Agile Technology Evaluations
Waterfall teams typically have one role per member, which leads to faster maturity, easier integration, and a gentle learning curve. However, frequent misunderstandings, misalignments, and lack of visibility and empathy across boundaries reduce the team's productivity.
Technology Evaluation Platforms
Platforms built for technology evaluations, like Olive, allow teams to run their process in less time without sacrificing due diligence. Technology evaluation platforms allow teams to collaborate with key stakeholders on requirements and their importance and compare available enterprise technology vendors to the project requirements. Olive follows all the best practices in the Waterfall model but allows for automation and agility, ultimately finding the best possible solutions for the business needs.
External Technology Evaluations
IT consultants advise businesses on how to get the most out of their IT systems and resources. They evaluate current IT structures, diagnose problems with those systems, and evaluate new technology solutions for clients.
Why Every Business Needs A Technology Evaluation Process
Performing a thorough technology evaluation gives your company a glimpse of various advantages that you might not have access to otherwise. Evaluation is an excellent way to identify problems and opportunities and, as a result, possible technology vendors that are right for your company. Use an in-depth technology evaluation process to maximize your outcomes. Study how the workflow is going in your company, and see if your employees encounter problems. Ask them what improvements they want and compare their suggestions with the company growth plan. Then establish what strengths and (more importantly) weaknesses your current state has and how it affects the workflow.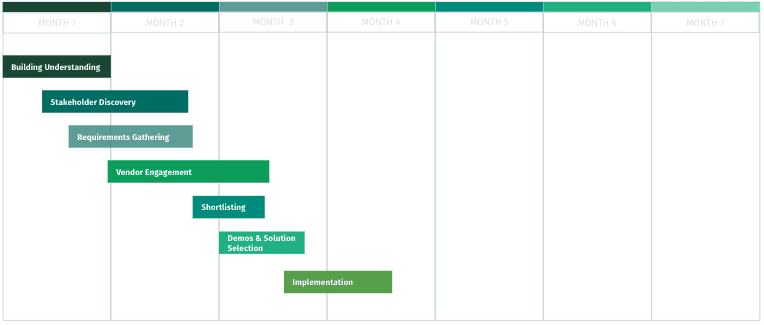 How to evaluate new technology partners in 6 steps;
1. Discovery – determine a business case for the technology required.
A business case ensures your company realizes measurable business benefits from the technology required. In other words, it ensures the project achieves your overarching business goals, not just the needs of certain departments, IT, Finance, etc. Ensure key leaders are aligned on the business case for the new technology. Describe the business challenge and assess the potential benefits the technology investment will bring to validate your need for it. Often, other options could solve your problem, such as upgrading the current software or improving business processes. While a business case can validate your reasoning for new enterprise technology, it may also reveal a better course of action.
2. Understand the needs of your organization and customers and the problem you are trying to solve.
Understanding your organizational needs is a crucial step in evaluating enterprise technologies. Ensure that identifying these needs is a collaborative process between critical decision-makers. Identifying the right stakeholders to include is a crucial step here.
Technology evaluation discovery survey template
What are your business goals for the next year?

What areas of the business are growing, and what areas are shrinking?

How could the right solution benefit our company?

Do we have the right budget for our needs?

What does success mean to our business?
Answering these questions will help you understand the business problem you are trying to solve with the right technologies. 
3. Gather, define, and rank the requirements (criteria) list for the technology evaluation.
To guide the technology evaluation, it's necessary to outline the business requirements for the new technology. Ensure all stakeholders think critically about these needs. You may find during this step that a larger budget is needed. Taking the time to define the requirements clearly, will help you make a case for that. 
The next step is to rank and define your must-have requirements list, the non-negotiables that the technology must have, including but not limited to;
Cost

Functional requirements

Security

Integrations with current enterprise software infrastructure
When you have defined your must-haves, you can then take a look at your nice-to-have requirements. This may include;
User Experience

White labeling and branding

Mobile platform
This should be a collaborative effort amongst stakeholders. When you begin the process, make a list as long as possible, and rank and define the list according to needs. This ranked list will guide you when researching options and demoing products. When ranking this list, consider the following;
Cost

What sort of accessibility do you need the solution to have?

Does the vendor provide an implementation plan and support?

What are the shortcomings of the current solution?

What technical features do we need the solution to have?

What workflows must the new software incorporate?

What problems should the new solution solve?
Traditionally and especially for waterfall evaluations, this work is done in spreadsheets and by hosting multiple meetings. Alternatively, you can use software to perform your  technology evaluations.
‍4. Determine the ROI on the right technology.
Determine the ROI on the right technology by looking at the price vs. value. There may be many cost savings down the line if you successfully find the best software for your business needs. This opportunity cost is often overlooked. Think about the return on investment that the right technology would provide to the organization. Often, cheaper technology in the short term is way more costly in the long term. Often a more costly solution is needed for true innovation.
5. Explore the market and shortlist best-fit technology vendors.
This stage of the process should list as many technology vendors as possible within your bandwidth that meet the general requirements of what you are looking for research online for vendors in the space. Compare all solutions on the market to your requirements in an RFP, or use a technology evaluation platform like Olive, where you can invite vendors to respond directly to your requirements in the application and converse with them if necessary.
Now that you compared technology vendors out there to the business requirements have outlined cost considerations, and researched as many technology vendors as you logistically can in the space – you can get to a short-list of best-fit vendors or products that will work for you using your specific business needs as the filter.
How to shortlist technology vendors:
Eliminate products that are over budget

Eliminate products that don't meet the top-ranked requirements on your list

Look at the remaining vendors and rank them in terms of how they meet the needs determined by your requirements list
6. Demo and technology selection
When you have a shortlist of 3-5 technology vendors who meet requirements, it's best practice to conduct demonstrations of the potential solutions. Visit each vendor's website to schedule yourself for a demo. This will give you a good idea of the company's customer support. So, take your time in conducting the demo, and ensure other stakeholders are demoing the product at the same time. Consider surveying users to get their feedback.
During the demo, keep an open mind to new ideas provided by technology vendors, but remember to keep the requirements top of mind. Do not allow technology vendors to take you down a road more aligned with their offering than your organization's needs. Demoing products is considered the most important step of the technology evaluation process, so to avoid going off track, prepare for these demos to maximize your learnings. 
Based on the product demos, you will likely have a favorite. Remove bias from the decision-making process by comparing them once more to the ranked list of requirements. Do your due diligence in ensuring that you choose the right technology based on your business needs and goals, without bias, with plenty of input from various stakeholders.
Technology Evaluations are 3x Faster with Olive
Sometimes, companies just don't have the internal skills, funds, or time to manage a thorough evaluation process. That's where investing in some help can pay off in the long run. Olive ensures that your unique business needs drive the technology purchase decisions for your company, setting you up for ROI and long-term success.
Olive takes the best of the process for evaluating technology and makes stakeholder collaboration easy. Users can anonymously look at all the technology solutions available in the space within the context of how these solutions meet your evolving business needs.
We do not charge vendors, and we keep your identity from the vendors until you decide to bring them to the demo, so you can be confident that there is no bias on the shortlist.
With Olive, you can check out various project requirements ahead of time in our rich requirements libraries, easily gather stakeholder feedback through surveys, and easily filter out vendors based on your requirements. Eliminate technology vendors who don't meet your needs, and ensure the proposed solution is the perfect choice for your organization.