ERP Selection Guide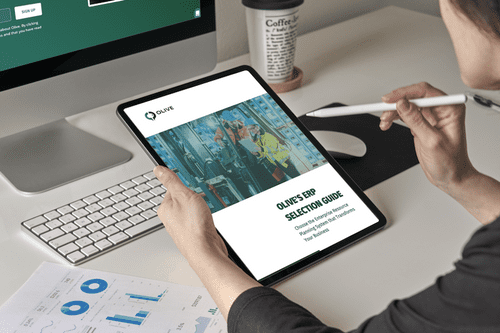 Find the Best ERP Platform for Your Unique Business Needs
No matter the vertical, finding the right ERP (Enterprise Resource Planning) system can be daunting, especially when multiple stakeholders are involved. Your ERP Software can impact your entire organization, which makes getting the decision right, very important. This guide gives you a step-by-step process to unlock the incredible benefits of the right ERP software and helps avoid becoming another cautionary ERP tale.
What is an ERP System?
Enterprise resource planning (ERP) is defined as delivering an integrated suite of business applications.
An Enterprise Resource Planning system (ERP) is a type of software that connects business processes, including inventory and order management, supply chain, accounting, human resources, procurement, and customer relationship management.‍‍
Benefits of Choosing the Right ERP System
‍Choosing the right ERP application for your company centralizes data around daily business processes, delivering real-time insights into your company, such as opportunities for improvement and compliance with financial regulations.
These insights optimize day-to-day operations, making your business more agile and efficient. By selecting the right ERP tool for your business, teams across departments and time zones can easily and efficiently collaborate.
Finding the Right ERP Can Drive Business Transformation
Every CIO, IT department, and business leader understands that finding the right ERP system for your business needs opens a world of opportunity. It brings efficiency to your operations, enhances the UX, and saves time and money. It can also augment the abilities of the variety of stakeholders. However, that's not why you're here.
You're here because you know ERP implementation is expensive and has a frightening history of failures. You know that digital transformation is inevitable. Every moment we persist with our legacy software, the competition gets further ahead, but the purchasing process is anything but confidence-inspiring. It is overly complex, has lengthy delays, and the stakes are just too high to make the wrong decisions. As if that wasn't enough, it has been tarnished with salesperson and vendor bias.‍
When Selecting an ERP—Lead with the Business Needs
Olive knows the ERP market is full of risk and favors sellers rather than the buyers. ERP Failures at Nike, Hershey's, and HP cost nearly $1 billion. We created this guide to restore the power to you, the buyer, so you can find an ERP that unlocks your company's unrealized potential.
Our philosophy is to lead with your needs first because that is what matters. Taking this as our starting point, we navigate through a step-by-step process, arming you with the right questions to ask your team, leadership, and potential vendors. Our process gets rid of the exceptional time lag, the salesperson favoritism, and sensational risk. We empower you to make safe, forward-thinking decisions. If you need any further help, reach out to our team.
Assessing and Addressing ERP Software Fears & Risks
Mapping Out the Buying Process
Gathering, Defining, Ranking Our Business Needs
How to Think Ahead and Stay Ahead
Navigating the ERP Market Efficiently, without Bias